https://www.fanatical.com/en/pick-and-mix/platinum-collection-build-your-own-bundle-may-2020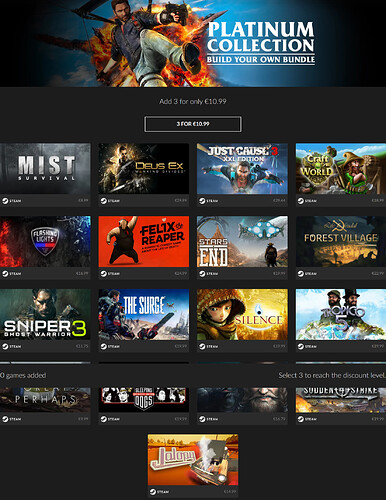 (Used Gnuffi's capture, coz I'd have to research the function on Chrome - fun, fun >>)
looks at bundle, and at owned games


wallet… safe !


anything to keep me from buying more stuff, despite obviously being some decent games in the mix, nothing i feel compelled to spend 11 bucks on for 3

I envy your library then.

If I was going to, I'd vote for Mist Survival and Deus Ex: Mankind Divided.
Looked at that name and thought they'd manage to get themselves a Platinum games bundle and got a tiny bit excited hoping that maybe Nier Automata might make an appearance. But no, wallet safe here as well.
you also gotta kinda look at the price tag in these kinda bundles
11€ = 3.33€ per game
deus ex, norm 30€ ; save 26.66€


Mist Survivial, norm 9€; "save" 6,66€

gotta try and squeeze some good deals in where you can, and unless you like "really really want it", considering a mere 66% discount, on an already cheap game, might not be the wisest pick for en "expensive" bundle with high priced games up to otherwise almost 90% discount , and especially if the low discounts/or prices end up matching or being lower than their individual "usual" discounts ex using ITAD history records Mist Survival - History - IsThereAnyDeal
buuut maybe that just my cynical ways of approaching bundles and valuing games/discounts, mayhaps i should just let people make all the frivolous bundle picks to their hearts content


edit. lol actually looking at this specific example on itad, with Deus Ex constant 80%+ discounts, turns out the, sorta, "better" savings actually lies with Mist Survival because it's only had a(/an actual) discount like once, a year ago

Yup… That game alone would encourage me to do a split.
Come on Fanatical, you can do better than that.

I think it's quite a decent 'build your own bundle' thingie.
I can only see 1 game here which i'm interested in and do not own , that's sleeping dogos but for example getting deus ex, surge and sleeping doges for 10.99moneyz would be pretty decent deal in my eyes.
There are new games as well.


Remothered and Tower of time seem nice to me, but the price is a bit push-off

Tower of Time was once given for free on GOG.
Remothered is a nice horror game (the sequel is coming out in October). Going by gg.deals, the lowest the game has been is 4.99$, while Tower of Time was 5.24$. So only these two, in their historical lowest prices, already surpass the value of this bundle and you even get to pick a third game from it.
My bad, should have noticed the regional difference here. I was seeing things from prices in my region so I would suggest to wait for a better bundle.
But from the info you provided, I'm glad that this would be a good deal for you


Thank you for the info of the first game as well

Oh sorry, completely forgot about prices on other regions.
Yeah, for me it would be a good deal. I bought Remothered last year for 6€, more than half of the price of this bundle (no regrets though!).
I already have the games I'd want from this bundle, so there's nothing for me now. Maybe in a future bundle, who knows!