i saw a bunch of sites that have a sale for the E3 week, some for xbox and only two for pc, including this one.
too bad, i already own red orchestra 2 and i am not interested in war for the overworld.
also, i think that 40k coins for dead cells is too much.
so i'll just wait and see the other games that will come this week.
40000 is a bit much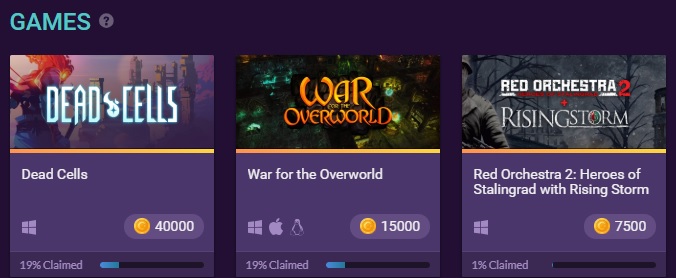 The sale hasn't actually started yet. I think it was a bit of a mistake on their part to put the shop games up early.
Hey. The complainers finally got their "high quality" coin shop games. But they better cough up some serious cash/coin.
I'm not able to buy these games(at least not dead cells), but this is still really cool.

you Chrono.
Whoa, never expected dead cells to show up on the coin shop.
Was going to get Red Orchestra 2 but then realized its already in my Steam library!

Wish I had enough for Dead Cells though

Damn, i'm 1500 away

As I have not bought anything for a long time, I think the next 5 days will be quite expensive for me. War for the Overworld today, let's see tomorrow!
And I thought my 13,239 coins was a lot, really hope War of the Overworld will still be available in 6 days (legendy chest) but I doubt it

ooh, just saw Chrono's ad at E3, pretty cool
This is a crazy campaign you guys got going on Chrono.gg. I like this idea and I hope E3 is the opportunity for you guys to gain more business! I hope you guys have enough publishers to continue the coin shop after the E3 blitz, because this could be pretty fast inventory turnovers at this time (given how high the bonus coins are for purchases).
And while Dead Cells is expensive (I actually have enough, but will pass and instead wait for a sale for real money on Chrono.gg or Steam, but damn those animations look awesome), I noticed it's being claimed like hotcakes. 40K was very surprisingly an underestimation as I don't think it'll last beyond 3 days.
In fact, I am VERY curious as to what everyone has leftover after getting Dead Cells. Does everyone have 100K or something? I only have 46K!
Currently 93% has been claimed already.

War for the Overworld gone as well o.O