Hi everyone, I wanted to introduce you all to a relatively new roguelike/lite card game that's not a Slay the Spire clone that's been in the works for a long time and is now on Steam. (Disclaimer: I have since a few weeks ago been in contact with the team and have had several conversations about this game. I am not receiving compensation in any form for doing this.)
This is some composite information that I pulled from their Chinese version of the press release in addition to my own personal experience playing the game:
Devil's Deck is an indie game developed by a small Chinese team whose passions were into developing games that involve deck building and card-driven combat for a long time. They have developed several such games, with the first release into China in 2003 《互动武侠》 (Hu Dong Wu Xia), subsequent 《逍遥游》 (Xiao Yao You) in 2007, and 《八仙 Online》 (Ba Xian) in 2008. It was around this time when Devil's Deck was being slowly created in terms of its rules by the developer at home, working away, despite knowing that the card-game genre had a fairly small audience at the time. After toiling away and having multiple setbacks, we have the game 《恶魔秘境》 Devil's Deck now available in Early Access on Steam.
There are many similarities from the 2008 game to the new game, most obvious is the way the game is set up in terms of the battles, and it's no surprise comparing the two that the foundations of the game were being laid bit by bit:
Battlefields for Devil's Deck (top) compared to Ba Xian Online (bottom):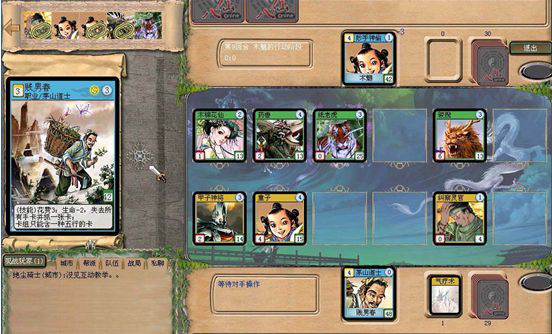 After 2008, the developer went on to make another card game and experiment with the roguelike genre to combine it with card-driven battles in a game called 《五行师》 (Wu Xing Shi). It was well received at the time, but the game's limitations made the developer feel that the card game's potential was not realized, and thus expanded on the ideas to create Devil's Deck.
So what's in this game?
It's a roguelike/lite (lite in that there's some meta-game progression with a currency that you earn from your runs), so expect to have plenty of different gameplay experiences.
The current Early Access version has three floors, each with 20 days/turns to explore and to explore and to improve yourself and your deck, to prepare for the boss who will arrive for battle. Before that, you will encounter an enemy after every 5 days as well. So there are expectant battles for each floor.
You have a choice of three characters to choose from, each with unique characteristics that will alter the way that you approach the game. Your will take turns moving from one hex to the next in order to improve yourself, with several different types of event/encounters on the hexes that you step into.
Aside from that, the actual battlefield is a strategic board for you to plan out your attack and defense. You can burn a card each turn to increase your maximum mana, while your playing field can support up to six summoned creatures who will attack/block against each other as they are placed across them, but undefended attackers will then hit the player character instead and cause direct damage. So the decisions involved here include which cards to sacrifice, how to use your mana, and how to best place your creatures against those of your opponents.
The current contents are in Early Access indeed, and the length of the dungeon is fairly short. As you can imagine, 20 turns on the map per floor for 3 floors for each run seems quite short. The battles are quite fun and when I played, I felt that the lengths of the fights were appropriate, as in they not draw on longer than they needed to be.
The content is rather rich, however, with the different cards available. Currently available are 240+ cards, with 70+ artifacts/items and 80+ summons/monsters. These in combination with the three very different playable characters make for very unique gameplay each time.
For those of you who are looking to have a serious challenge, you will find it here for sure. They have 20 different difficulty levels to take on that challenge. In the higher difficulties, you would want to seriously consider each move and every step as you make your way through the dungeon.
The appearance of this game is quite good, it has a low-poly feel that was completely intentional, and I think it was done rather well.
The English localization is of course going to be on the minds of a lot of people as you decide to pick this game up or not. If you are not being picky about typos here and there, the rules are actually explained rather clearly and the cards make sense by themselves. It was not difficult for me to understand what's going on rather quickly and you can check out my first-look gameplay video if you wish:
Anyway, this game has all of my support for an Early Access title.
---
So why the plug? Well, mentioned above that I am not getting any kind of compensation for this, but I did manage to secure a key for our community. So let me know if you want to try it out! Notice I am just putting this thread under Gaming instead of Other Deals/Giveaways, that's completely intentional.
Simple rules:
Anyone can enter.
Just say so below, though please only enter if you intend on playing it.
Tentative ending date for this: Saturday, Oct 26, 2019, subject to change without notice.
Please support the developers by adding it to your Wishlist or even consider making a purchase if you do not win.
Winner will be determined by RNG roll and will be notified by private message on the forums, with the usual 24-hour reply required to obtain the game key. If no response, you will forfeit your winning entry and the game will be rolled over to someone else.
Anyway, I hope that the Chrono regulars here will participate and make it so that all of my effort in translating/composing will not have been in vain.
Good luck everyone, and thanks for supporting another indie development team and the fruits of their labor, after toiling through so much sweat and tears.