The Lion's Song, season pass. -40%
All-time low: -30%, last on Jun 22nd, 2018.
1st episode is FREE on Steam. Rating: Very Positive.
CLICK HERE to trade with me! I'm giving the coupon out for free, of course.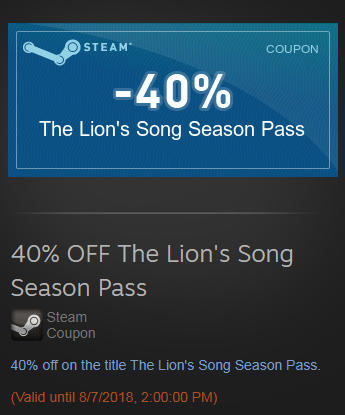 My review of Episode 4, which also mentions the game as whole:
The Lion's Song is set mostly in the prestigious "City of Music", Vienna, during the early years of the 20th century. Throughout the first three episodes, the players are waltzed along streets filled with music, fanfare and the bohemian life while following the lives of three people: a struggling violinist, a budding artist and a strong-willed mathematician.

(…) I have to say that The Lion's Song and all of its chapters receive a solid and emphatic recommendation from me, especially if one is entangled in the world of the arts or seeking a tale that is told not only with silver-tongued phrases, but a tenderhearted tone.