This one might be a long post boys and girls, so strap in and welcome to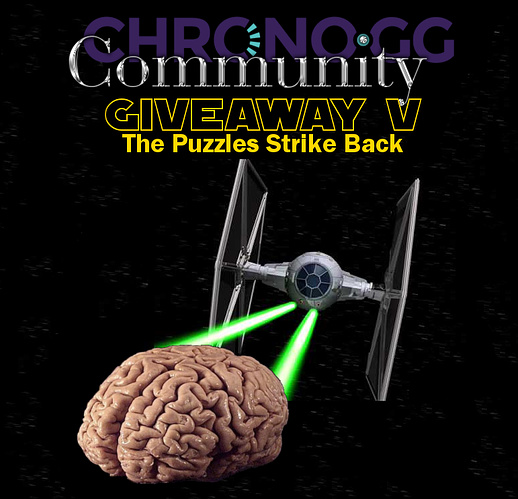 So I have been slaking a bit of late and the other people in the Community Giveaway Group (@Punkster, @delenn13, @Gnuffi, @HappyCabbage & our latest member @YQMaoski) have been doing the bulk of the work, so its my turn to take over and run this one.
FAQ
Now lets get a few questions out of the way so you can figure out if you want to keep reading:
Are you giving away Star Wars games?
Not specifically, I just felt it was a good theme, sorry to disappoint you.

Do we have to do puzzles to get games? I am no good at them
Nope, don't worry keep reading and you will see there is something for you.

How Long is this post going to be?
Long, but we are giving away some good stuff, and this is my thread and I can do what I want with it .
Story Time
So a little while ago, in a galaxy which this planet is a part of… I did a small giveaway and I decided that instead of just telling people what the games were and they could pick what they wanted, I decided to make the game titles into little puzzles and people had to figure out what they were before they could enter for them, you can check it out here
https://206.81.1.216/t/petemccs-second-game-giveaway-closed-answers-revealed-winners-notified/4810
and it seemed to go well, a good amount of people participated and I got a good response from those who tried them.
And in that thread @Fraggles posted
And it got me thinking "can I actually make an ARG?".
So over a couple days many months later I decided to whip one up, so @Fraggles your wish is my command and that is what we are going to be playing today.
I have been refining the puzzles here and there since I made it so hopefully it has turned out well. Now it is not going to take 12k people 6 months to solve (in fact its pretty easy as far as ARGs go) but hopefully you will enjoy it. Now on to the good stuff.
The Prize
I thought we would harken this back to the secrets page from the very start of this website where the first few people to solve the puzzles on the page would win gift cards for Steam, so…
One person will win:
One game of their choice $20 USD or less in value from Steam
OR
One bundle at a $20 USD or less teir from Humble Bundle
If you win we will get in contact with you, to organise what you want.
ARG Rules
Please read these carefully:
You have 7 days from the time of this being posted to solve the puzzles, after that entries are closed. Countdown till entries close
There are 5 puzzles to solve, each puzzle solved will get you one entry into the draw (so you can still win even if you don't finish the ARG)
Each puzzle after the first one will give you a PM code (4 in total), it should be easy to find (its not hidden or anything), send each code to me in a PM via the Chrono website with the title ARG, if you do not send me the PM code for each puzzle you will not gain the entries for solving the puzzles.
Solving the final puzzle requires you to perform an action, doing this action will be considered the 5th entry into the draw.
Please don't post any solutions or spoilers for the puzzles, doing so will immediately disqualify you from winning.
If you think something with a puzzle is wrong, isn't working or you have other questions please PM me. Due to my timezone and living my life I may not get to your post promptly but I will do my best to respond as soon as I can.
Please don't spam me or the other giveaway members with requests for clues, you may PM me if you are stuck but I will not necessarily give you a clue, that will be at my discretion.
At the end of the giveaway, it will take us a little time to collate the entries and find a winner, once we have got a winner it will be posted here and I will post all solutions to the puzzles as well.
Other Giveaway
So for both those who want to participate int he ARG and those who don't (though I recommend at least giving the first puzzle a try) we will be giving away 3 games:
Max Payne 1
Max Payne 2
Grand Theft Auto 3
To win these post which games you want along with your favorite riddle/puzzle with the solution in in a spoiler box like this:
How to make this spoiler box

Hit the cog icon in the far right of the text box and hit "hide details"
And and we will pick a winner from them.
General Rules
To win any of the prizes from both giveaways you must:
Been a active member of the community for at least 4 weeks prior to the posting of this thread
Have 6 badges
Actually want to play the games
If you want to participate in either of these competitions and don't want the prizes just say so in you post/PM.
Also if you don't meet the requirements but do want to play along feel free, you just won't be eligible for the prizes.
The First ARG Puzzle
OK lets get started, here is the first puzzle


Now for those who are already stuck, I did have a clue ready for you, but don't think it's going to be that easy to get it from me. Maybe get to know me a bit better and I might reveal it

Sidenote: People who are colourblind may have a few issues with puzzles, especially this one and puzzle 2. If you have issues with the colours please PM me and I will try and help you out.
ARG Puzzle Solutions
I am going to chuck the solutions into spoiler boxes, so open them up if you want to see a link to the puzzle and the solution
Puzzle 1

Puzzle Link:
The puzzle is just above, so have a look there.

Solution:
The blocks in the image are from the game Terraria.

For those who didn't know this I left a clue behind, you just had to figure out what I was saying here.

This was directing you to take a look at my profile, in the about me section I had the following clue:
You figured out where to find the clue. Look this is only the first puzzle, don't run out of Steam yet! 105600

This was trying to direct you to the Steam website and if you went to and placed 105600 at the end of the web address like this http://store.steampowered.com/app/105600 it would lead you to the game Terraria.

From here you needed to figure out what each of these blocks represented in Terraria. In order they are:
Amethyst Stone
Ruby Stone
Gold Ore
Sapphire Stone
Topaz Stone
Amethyst Stone
Ruby Stone
Topaz Stone
Sapphire Stone
Hellstone
Emerald Stone
Ruby Stone
Emerald Stone

Take the first letter from each of those blocks and it would lead you to use the web address
tiny.cc/argstartshere
and on to…
Puzzle 2

Puzzle Link:
https://imgur.com/IfIz2zN

Solution:
This puzzle was basically morse code, where the green blocks represented dots, blue squares represented dashes, a single white square represented the end of a letter and 3 white spaces in a row represented a space.

To figure this out Google Image search was your friend as the images gave you clues on how to solve the puzzle.

The top image is of Inpector Morse from the British TV show of the same name. Hopefully his name lead you to morse code.

The picture in the bottom left is Dot from the 90's show Animaniacs. With the green background this meant the green blocks were dots.

The last picture is of Dash from the movie The Incredibles. With the blue background this meant the blocks were dashes.

Decoding the message you get:
well done go to bit.do/chrono1
using that web address you get to…
Puzzle 3

Puzzle Link:
https://imgur.com/qwo1112

Solution:
Thought I would make puzzles 3 and 4 a little easier (or I thought they would be a bit easier, not sure how you all felt about them), like a little puzzle breather.

This one didn't require much, this was really just a lead up to the next puzzle. All you needed to do was join the 2 pieces of the qr code on the image together so it would look like this:


Which would send you to the web address:
Petes ARG hope you got the clue to solve before you got here - Pastebin.com
and that links to…
Puzzle 4

Puzzle Link:
Petes ARG hope you got the clue to solve before you got here - Pastebin.com

Solution:
For those who have done ARGs before this is ARG 101. The string of text you see is a message encoded using a base64 encoder.

To solve this the title of the pastebin was Petes ARG hope you got the clue to solve before you got here.

What I was hoping is that you noticed in puzzle 3 I had covered 2 words from the pictures with parts of the QR code.

The first was the word base from the famous quote all your base are belong to us from the game Zero Wing.

The second was the number 64 from an image of a Commodore 64.

Putting that all together and using a base64 decoder on the text string you got the message:
Hey you decoded the message. The next step is to go to a website, the address is http://mmmbop.website2.me/
Head over there now to continue your journey

Using the address you get to…
Puzzle 5

Puzzle Link:
http://mmmbop.website2.me/

Solution:
I had to make this final puzzle a little more difficult again. I mean its the final puzzle right?

So the first thing you had to do was solve the math puzzle based on music.


Doing some searching you will find:

Number Blind Melon believe is sorcery = 3 (song Three is a Magic Number)

Ed Sheeran's first album = +

What Taylor Swift is feeling = 22 (song 22)

The love concoction The Clovers used in 1959 = 9 (song Love Potion Number 9)

What Ed Sheeran's fourth album should be called = -

What Starsailor had toward what you stand on in a house = 4 (song Four to the Floor)

This left you with the math problem (3 + 22) / (9 - 4) = 25 / 5 So the answer was 5.

You then had to take that number and send it to me in an email.

To find the email address you needed to look at the image with a saying on it. The saying was:
SOMETIMES YOU NEED TO LOOK AT WHAT IS BEHIND IN ORDER TO MOVE FORWARD TO VICTORY

Behind those words was a image.


Now most people probably didn't solve this the way I intended (which is fine, I kind of expected it) but this image is a stereogram, otherwise known as a magic eye. I left a clue to this is the way the text was structured on the website.

So look up stereograms for more info, but basically if you look at the image in the correct way text will popout in a 3D fashion which will show you the email address:
CALHOBWAT@GMAIL.COM

sending me the number 5 to this email address with your Chrono username got you your final entry.