Pretty decent bundle for $3.49: Best of Indie Legends 2 Bundle | Fanatical
Includes: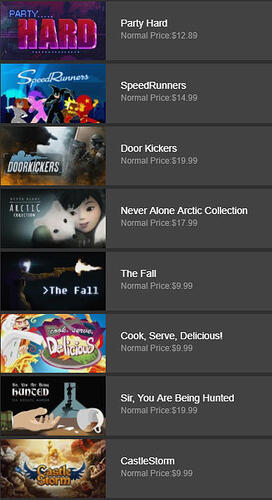 Didn't like Party Hard haven't played the rest except for Speedrunners, but I'd argue it's worth it just for that game. It's a Mario Kart-esque multiplayer which is loads of fun and it has decent playerbase. Never had trouble finding opponents. Put in about 20 hours or so.
I bought the bundle just for Speedrunners and CastleStorm. I believe the lowest they have been discounted is $2.49 each (for a combined total of $4.98). So, it was worth it for $3.49.
I already have Doorkickers, Never Alone and Cook, Serve Delicious - all good games which I will include in a future giveaway. Not sure if I'm going to keep any of the remaining three games.
I'd suggest to try The Fall. Haven't played it myself, but it's been recommended often enough when I finished The Swapper. They share similar vibes, I suppose. Have you played The Swapper?
I haven't played The Swapper. I am familiar with it though (believe it's on my wishlist somewhere). I'll probably end up keeping The Fall. Looks interesting enough.
Another pretty good/cheap deal on Bundle Stars: Fanatical
2 games for $1 or up to 12 games for $3.99. Some standouts are: Riff Racer, Standby, Manuel Samuel, A Story About My Uncle, Pang Adventures (for all of you who missed The Bug Butcher on Chrono

).
Monster Bundle - 50 Games for $1: Dollar Monster Bundle | Fanatical
I can't find a single game in this bundle compelling enough to get me to buy. But for those less picky, or in it for the cards, it's 50 games for a dollar

There ARE some nice games in there depending on your tastes. The Pixel Puzzles series is nice if you're into that sort of casual stuff and The 39 Steps is also good among some other things, will def. read the actual novel some time.
That aside, the Bundlefest is nice as always, some old stuff, some new stuff and some old but changed up stuff like the Curve Overload bundle.