It's another week of lots of bundles at fanatical:

Already two new bundles are up, and more to come…
Ignoring the mystery bundle, the first bundle is the Undercover Bundle…
Of course it's a bunch of repeats, but still decent for someone who doesn't have a lot of the games for $2.99:
https://www.fanatical.com/en/bundle/undercover-bundle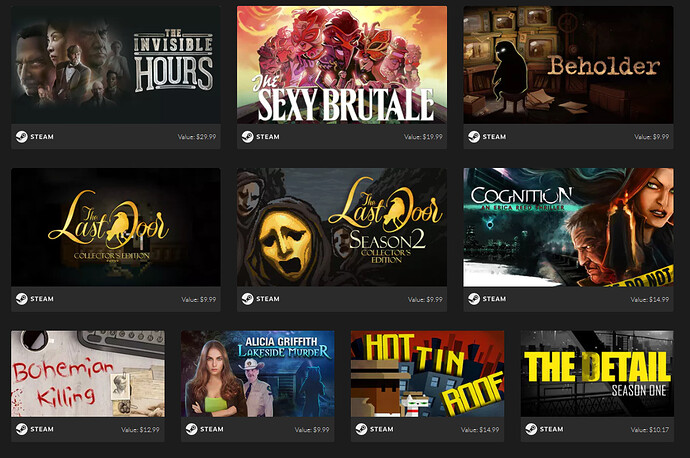 Strongly recommend The Last Door. Both seasons. Atmospheric, creative and daring. Some of my favorite p&c games.
Sexy Brutale is also excellent, just not for me, so I can't say much about it on a personal level.
I'm curious about The Invisible Hours and wonder if anyone has anything to share on it.
It's made by Tequila Works, so I can't imagine it being bad, since they made RiME and The Sexy Brutale.
DK played the VR version of the game and had a good time, here's his review on it:
Next up is Skullgirls Complete for a dollar:
https://www.fanatical.com/en/bundle/skullgirls-complete-bundle
another repeat yes, but I see the DLC on some people's WLs.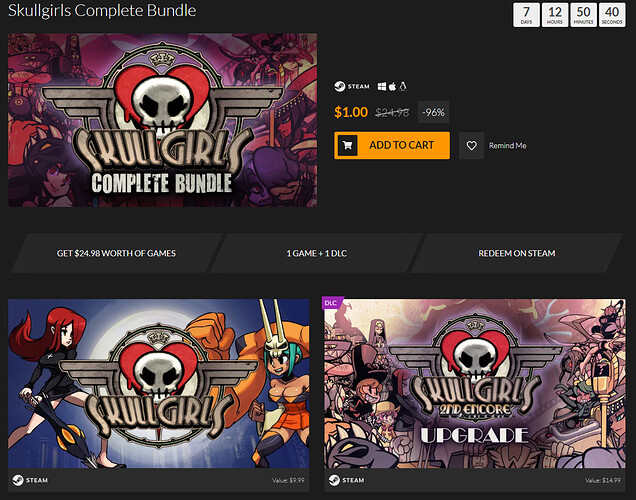 not sure if undercover bundle is a release, or if it just never expired? -it's the exact same i got like 2 months ago

maybe it just went undercover for a bit
I'm contemplating it just for The Last Door pt 2, though it feels a bit silly to get the whole bundle just for one game.
Don't! Give me a day(or less) to think about it…If I do, I will give you the key. K?

I have seen Fanatical do this before, when they would push some older bundles back for a week.

Can't say it's a good or bad thing, but it may be good for people who missed it first time around.
I am, also, thinking about this bundle for all the Night Dive games.

https://www.fanatical.com/en/pick-and-mix/tommo-pick-and-mix
Those Spy Fox games in the bundle (and Freddie fish to a lesser extent) were a huge part of my gaming childhood. I loved figuring out the puzzles and enjoying all of the wacky humor.
So are you saying we might have to direct @ARS85 to this bundle???
You're too good, too good! Even for just considering it. I think there's about a week left on the bundle, so just let me know what you decide. If you want to pm me your PayPal address I could help out on the purchase.
Check your PMs. Just pass it on! You don't owe me anything

Thank you! Faith in humanity levels… rising!
Yeah, definitely a good bundle.
My problem is that I want 1-2 of the games and have the others already.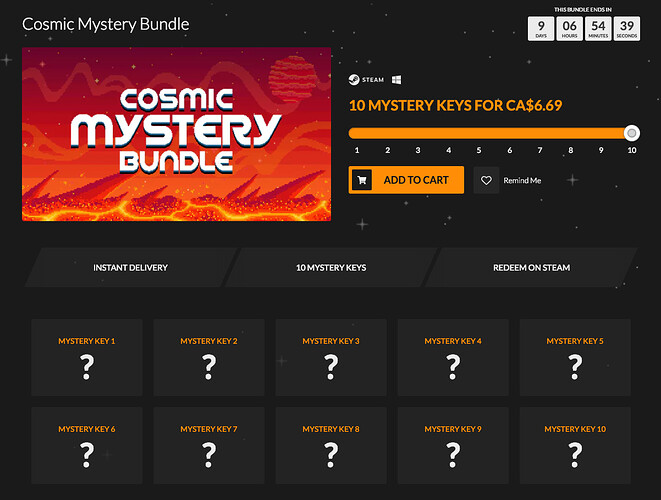 https://www.fanatical.com/en/bundle/cosmic-mystery-bundle
Does anyone know if everyone who purchases gets the same 10 keys?
---
EDIT
At the bottom of the description; emphasis is mine -
In any single transaction we guarantee you won't get a duplicate game. If you purchase multiple bundles, there's always a chance that you'll receive a duplicate game
So it sounds like they just give you 10 rando keys they probably have laying at the bottom of their pile.