Here is the link :3
This game




It's still showing up as $20 for me?
it's the one below the purchase one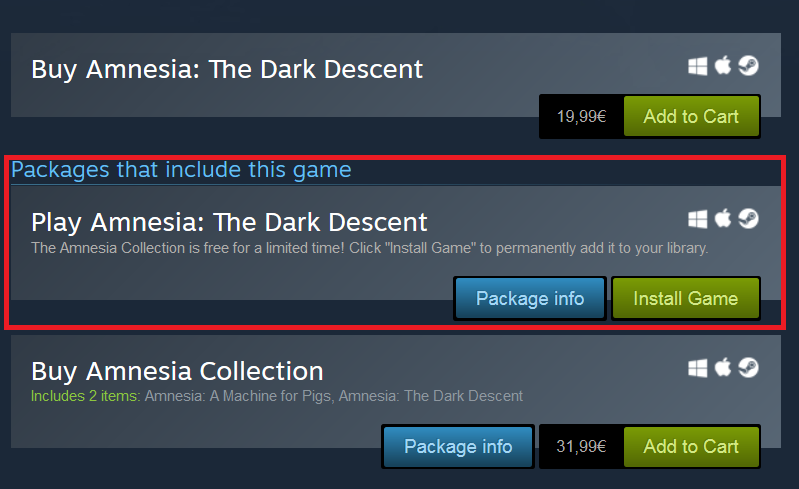 the free one also contains both amnesia games it would appear
(tho unsure if it registers the pack/both games to your account(since i already own and can't check), or if need to click the separate game's "free install" button too http://store.steampowered.com/app/239200/Amnesia_A_Machine_for_Pigs/)

@Gnuffi to the rescue!
Too bad I just purchased these recently… Have yet to fire them up… Need to not be so trigger happy with real coins in the future…
Either way, I'm about to investigate the same thing, thank you! It worked, I appreciate the help!
Thanks for the hint Agetime! Probably too scary for me to play it on my own but eventually I shall find somebody to hold me meanwhile lol
Both games are for free, clicking on one adds the whole collection

I picked this up last time it became free, but the closest I've come to playing it is by watching old Markiplier videos of him playing. The custom stories seem neat though (a late(?) nights drink was particularly cool).
hahahahahaha this happens u.u, the first time I played Amnesia was with my cousin (who hates terror games and was only playing because he won the game u.u), as he was alone he decided to call me to play with him.
Despite being a horror game, I kept laughing more than half the time, because in every room that we went through the guy gave me a jump in the armchair
but believe me this game is awesome u.u, when you have time to play (or at least company kkk) do not think twice in play this gorgeus game S2
Ps: if the message is confusing, excuse my horrible english kkkk (I was rusty with the language and I just need some help from the translator


)
It's not that bad, just make sure you don't forget the rope at the start. You'll be fine.
amnesia not scary at all for me…