Calling all Artist and Graphics people…@Inferry, @terryndonita, @Rilover, @Whitishmink, @YQMaoski, @GanbaRANGER, @CptMold, @yitzilitt @AHMEDJXZ @Fraggles @dogetail @truly @eishiya @WikiTora @coralinecastell @BlivetWidget @whitdemon Don't Yell at me if I left you out. Just calmly tell me…LOL
The Page for Eldamar Studios:
Here's the site WITH THE GIVEAWAY:
During the install you will be asked if you want the SharewareonSale Daily Giveaway Notifier. You can and should(Unless you want it…I don't even use it…I get daily emails from them) Click NO! See Pic below: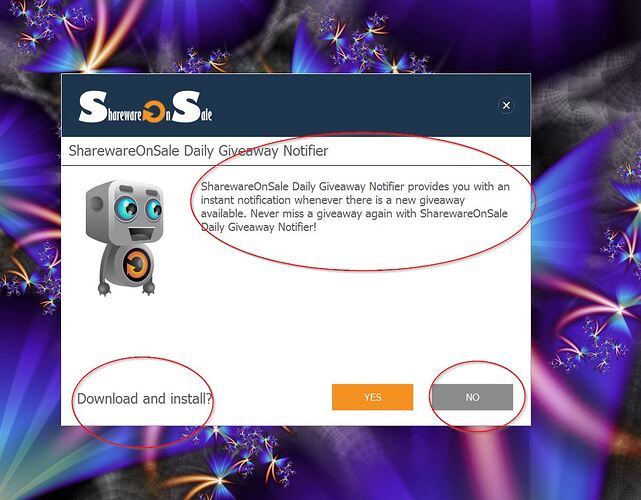 The file is not a program. Click the EXE and it will start the download It contains 1,000 photo overlays for you to use. You will get over 2 gigabytes of high-quality resources for your great projects. Simply extract the zip and start using them. Enjoy!
Your download will be slow…Mine is going at a snails pace. Just Saying…Because so many people are getting it now. You have approx 6 days to get it.
Enjoy