Today's deal is Yookah-Laylee and the Impossible Lair!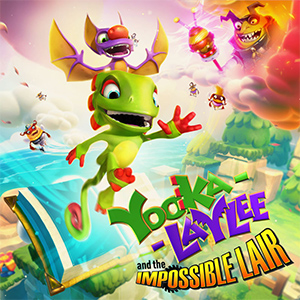 Steam: https://store.steampowered.com/app/846870/YookaLaylee_and_the_Impossible_Lair/
Description:
HOMONYMS

Dang, it's such a beautiful night!

I know…sometimes something's so beautiful that you just gotta celebrate it, you know?

Yeah…

Here, you know what? Pass me that Yooka Laylee…

Oh! Here you go! I didn't know you played!

I dabble, it's just-

…what?

This is a ukulele, not Yooka Laylee!

Wait, what the heck did you just ask me for?

I wanted you to pass me my laptop with the copy of Yooka Laylee and the Impossible Lair I just bought from Chrono for like half off!

What the heck is that? Some kind of weird kids movie?

No, you…look! It's like a bunch of the guys from old Rare came together! The first Yooka Laylee was like Banjo Kazooie and the Impossible Lair is just like Donkey Kong Country…

Ohhhhh! Okay!

Right?

But what the hell is Donkey Kong Country?

I hate you, I'm out of here…

Wait, wait, wait! I'm kidding, I'm kidding, I'm kidding!

Ugh! Fine!

…Just kidding. I don't know what it is.

I'm leaving.
The official trailer for Yookah-Laylee and the Impossible Lair:

Our favorite Steam reviews:
As always, use this thread to discuss this deal, talk about the game and find other people to play with!
(ノ◕ヮ◕)ノ*:・゚✧