Today's deal is Yoku's Island Express!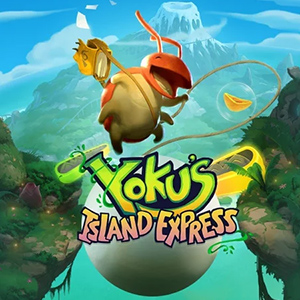 Steam: https://store.steampowered.com/app/334940/Yokus_Island_Express/
Description:
OH POO

Amazing! Yoku the poop-rolling bug has rolled his poop ball all the way to an island called Mokumana, or dookie island, ready to chill out on the beach next to the stinky and slowly-drying ball as the sun beats down and he makes the odd delivery to find his lazy poop-rolling life. But what Yoku did not know what that his was not the only ball of shit on the island, though this other one was more metaphorical in nature. Turns out an ancient god was trapped sleeping, and Yoku has to save the whole world? He does this using the poop ball as a pinball and smacking it around the island with giant poop-smacking paddles. This is very fun.

See, Yoku can smack the poop ball anywhere that he wants, slowly exploring where you want to go at your own pace, always trying your best to find ways to wake up the god with the poop ball. Roll the poo through jungles, beaches, hot springs and mountain caves as you try your best to find a way. Just don't think too hard about what must be happening to that big nasty sunbleached white ball, and eventually, if you're patient, you'll also be able to suck up slugs and make loud noises! This bug is cantankerous and disgusting!

But don't worry! The game isn't really focused on this one nasty detail, and is instead a beautifully hand-painted story featuring tons of great questlines with a cast of many well-developed and interesting creatures, who barely even acknowledge that the crux of the action is based around a bug who smacks around a ball of poo! Hopefully, this is enough to give you the courage to play, because one, though it sounds gross, it's actually great, and admit it, you gotta know what it's like to take out a huge laser-equipped god monster with an airborne ball of dookie. Available today only for less than five bucks!
The official trailer for Yoku's Island Express:

Our favorite Steam reviews:
Sale price info:
This it the lowest Yoku's Islan Express has ever been individually discounted according to ITAD, previous low was $4.99 on Steam.
As always, use this thread to discuss this deal, talk about the game and find other people to play with!
(ノ◕ヮ◕)ノ*:・゚✧