Today's deal is Wizard of Legend!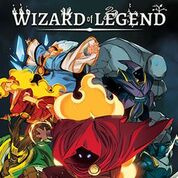 Steam: https://store.steampowered.com/app/445980/Wizard_of_Legend/
Description:
EARTH, WIND, & FIRE… AND ICE…(& LIGHTNING)

Yeah yeah we all groove the hell out to Boogie Wonderland and September, but I want you to sit down and think about those songs for a moment. Haven't you ever been in the midst of a hustle or disco finger and felt like something is missing? You mean to tell me you've truly been dancing all of your cares away, every single one? Boogieing so hard that you never stopped to notice that there's A MISSING MEMBER OF EARTH, WIND, & FIRE.

That's right folks. The Man has kept me down for too long, I can't let this electric slide for another second. The fourth member, Ice, was sucked into a dark arcane black hole whilst the band was visiting the Wonderful Wizarding Museum of Arcane History. It was a light hearted jovial time in between tours. They just wanted to learn about all the magical shenanigans that our ancestors got up to. But just as we lost Paul McCartney and had him promptly replaced by Faul (fake Paul), we have also lost Ice to this beloved boogie band cover-up.

What? You've never heard of the Wonderful Wizarding Museum of Arcane History? Do you live under a rock? That's not important, what's important is- what now? What's the hustle??? Are you kidding me??? Dammit just let me finish the story and I'll explain! Do you know how much I'm risking by spilling these beans? The important thing is that the Man didn't want people to know Ice was gone because…you're giving me a look like you didn't even know magic is real. Y'know what, FINE. Since you're so hung up on this unimportant museum and completely uninteresting magic I got my buds at Chrono to feature Wizards of Legend today. Pick it up and educate yourself. Jeez.

….didn't even get to reveal that I'm the fifth member, Lightning. Damn millennials.
The official trailer for Wizard of Legend:

Our favorite Steam reviews:
As always, use this thread to discuss this deal, talk about the game and find other people to play with!
(ノ◕ヮ◕)ノ*:・゚✧