Today's deal is the Whispers of a Machine!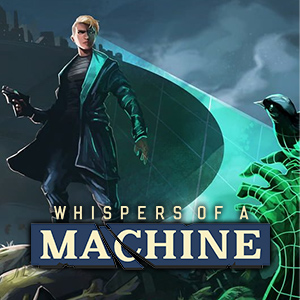 Steam: https://store.steampowered.com/app/631570/Whispers_of_a_Machine/
Description:
DEFINITELY NOT ROBOCOP

The Agent will be here soon to investigate. From what I hear, the person that they sent is young, but quite capable.

Really? Because I hear that the person they sent is basically like if Robocop were a detective.

No kiddin!

No kidding. She's got, like, Batman's detective vision. She can scan blood on stuff and tell how old it is–cross reference it with other blood just like that!

That… well that's extremely convenient.

I'm not done. She's also like a human lie detector. And she has super-strength. My contact told me he saw peel a locker door off the wall like it was tissue paper.

Do you believe your friend?

Well, if he's lying, we can always ask her to find out.

If your friend wasn't lying about the lie-detection.

Don't be a smartass, Kurt.

We're really going to need all the help we can get, though. All the augmentations in the world won't help us if she's not an excellent detective.

Well, I guess that depends on the choices she makes along the way… and whether or not these whispers of 'The Conduit' are true.

Oh yeah? What did you hear?

I couldn't tell. They were whispering.

Now who's being a smartass?
The official trailer for the Whispers of a Machine:

Our favorite Steam reviews:
As always, use this thread to discuss this deal, talk about the game and find other people to play with!
(ノ◕ヮ◕)ノ*:・゚✧