Today's deal is We Need To Go Deeper!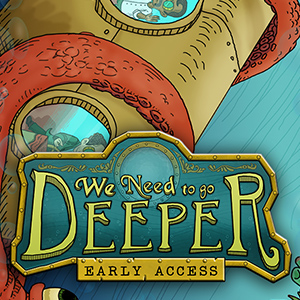 Steam: http://store.steampowered.com/app/307110/We_Need_To_Go_Deeper/
Description:
1920'S CLASSIFIED AD

Come one, come all, and join us on an unforgettable journey of exploration and discovery! If you haven't been living under a rock for the past few months, you've probably heard SOMEONE on the radio talking about "The Living Infinite," a deep and ever-changing sea trench that holds untold treasures, and at least one great mystery, on the way to the unseen bottom. Regular people like you and I have been leaving our boring day jobs, doing nice era-appropriate things like losing money in the stock market and eating lunch out on the unfinished steel skeleton of a towering skyscraper, to go explore the abyss, and now it's time for you to join us out there!

And listen, we realize throwing your life away to drive a flimsy four-person submarine into a famously deep underwater trench probably ISN'T how you expected your life to be going right now, but don't worry, if you're scared to pull the trigger, just do what we always do in the 20's: pretend we can't get access to alcohol while getting wasted at work! Then you'll be ready to drop FIVE WHOLE DOLLARS on a one-way ticket to becoming a famous ocean explorer, AND you'll be so sloshed, you won't even stop to think about it!

So please, don't think of the dangers! Think of the riches! It's the Jazz Age! Jules Verne is basically our Tolkien! So let's suit up in a tweed sweater, some goggles, and a fishing pole, and let's all crew a submarine together until we're rich or we're dead! If you're not happier with us than you were when you found out the Great War was just the beginning, we'll eat our hat! Come co-operate on a submarine TODAY!
The official trailer for We Need To Go Deeper:

Our favorite Steam reviews:
As always, use this thread to discuss the deal, talk about the game, and find people to play with.