Today's deal is Warhammer 40k Dawn of War Franchise Pack!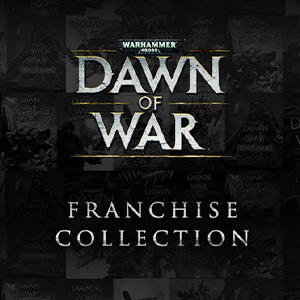 Description:
WHILE YOU WERE SLEEPING

So, I did it. As you know, I love Warhammer, especially 40K. I'm the Warhammer guy. I love the models, I love the games, I love buying my White Dwarf magazines, I love it all. And yet, I've gotten a bit behind because as you ALSO know, I was struck by a passing truck and slipped into a coma on September 19th 2004, one day before the release of my most anticipated game of the year, Dawn of War. That's where I was up until one week ago at 9am, and with no new memories, like someone turning on a PC with Windows 3.1 in 2004, I immediately perked up and asked am I okay? Will I be able to make it in home in time to beat the postman to my house with my copy of Dawn of War?

Turns out, it's been 16 years, and not only is Dawn of War out, there's also a second Dawn of War, and each one has like a million DLC's. I bought something on a website called Steam today that came with all that stuff for just thirty bucks, and it's all I've really been doing since I've been back. I'm adjusting pretty well, not that much seems different since 2004. Apparently, a couple other weird things have happened in the world that I've asked my parents not to tell me about yet, I'm 34 now, and there's even a Dawn of War III, but I don't think I can handle any of that yet.

All my friends have turned into parents, movies have gotten way weirder, Dunkin Donuts are just called Dunkin, but after buy this franchise pack, I now have enough Dawn of War to play to make up for all the time I spent sleeping. I know not ALL of you are just coming out of comas, and I know I haven't done much else yet, but trust me, this sale has been the craziest news yet by FAR.
The official trailer for Warhammer 40k Dawn of War Franchise Pack:

Our favorite Steam reviews:
As always, use this thread to discuss this deal, talk about the game and find other people to play with!
(ノ◕ヮ◕)ノ*:・゚✧