Today's deal is the Warhammer 40,000: Space Marine Collection!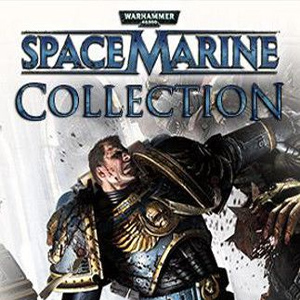 Steam: https://store.steampowered.com/sub/15351/
Description:
LIKE TOY STORY MEETS WRECK-IT RALPH

There are many of us (we think) who look on at what they do over at Games Workshop with a sort of wistful resignation, like you're always just going to be window shopping forever. Ah, if only…you might think to yourself. If only there was but one more day added on to the week for a total of eight days per week. If I spent like six hours of that extra day working on two or three things I liked, life would be way more satisfying. Obviously this is a ridiculous thought because it's not like they're gonna change the amount of days there are in a week anytime soon, but if you're the same type of nerdy as us, one of those things you'd definitely get around to doing eventually would be buying, painting, and playing the Warhammer 40,000 tabletop miniature game.

However, a few completely sobering Google Shopping searches later, in which it is revealed that owning and regularly maintaining a Warhammer army costs about as much as purchasing and caring for a designer breed puppy for the rest of its life, it's impossible to feel great about adding it our lives, not to mention it's probably a WAY more involved game than we think it is. And so the cycle of inaction continues. Easy peasy.

So from us to you, the lazy but interested, we say: rejoice! That time of wondering is gone, replaced instead by a time of…experiencing; of KNOWING. Gamers, we bring you the Space Marine Collection. The cult 3rd person shooter that brings this world to life without having to create a spot in your house for all your models is one sale with all its DLC today for just fourteen bucks. Finally, take a true step into this forbidden world.
The official trailer for Warhammer 40,000: Space Marine Collection:

Our favorite Steam reviews:
As always, use this thread to discuss this deal, talk about the game and find other people to play with!
(ノ◕ヮ◕)ノ*:・゚✧