Today's deal is Warhammer® 40,000: Dawn of War® - Game of the Year Edition!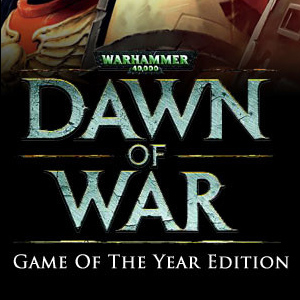 Steam: https://store.steampowered.com/app/4570/Warhammer_40000_Dawn_of_War__Game_of_the_Year_Edition/
Description:
SPACE MARINES ARE PEOPLE TOO

The Space Marine is taking a break. He's been fighting his war a little too hard for his own max stamina today, so he's sitting there slugging down a huge glass of water. It's hard to look at him and remember that he's part of the Emperor's gene pool, a modified human under all that insanely crazy armor. From where he's sitting he unwraps a turkey sandwich. You think about how Space Marines can see the memories of the things they eat and wonder if it would be worth it for a turkey sandwich. You're not sure you'd be able to eat meat at all at that point, unless it was hunted, you suppose.

Gosh, and can you imagine walking around in one of those things? Damn. Every step you take is like setting down the tank from a water cooler on tile. It'd be rough to walk around with that much girth. Do you think with the extra heart and lung they can eat more cholesterol and vape more than us? Or maybe they don't "desecrate" their bodies with that kind of stuff as the Emperor's half "sons". You consider taking a page from their book. Eh, too much work.

And yet, ironically, it is you who's in charge. If you want them all to spray paint Batman symbols on their chests and go fight some space orks, they'll totally do it. They'll follow your commands even though you probably have zero officer's training. Or maybe you want to line em up and knock em all down with an Eldar strike team. Either way, they will obey, and they will do so with the utmost commitment and honor possible. They are Space Marines. It's dope. And this, is the Dawn of War.
The official trailer for Warhammer® 40,000: Dawn of War® - Game of the Year Edition:

Our favorite Steam reviews:
As always, use this thread to discuss this deal, talk about the game and find other people to play with!
(ノ◕ヮ◕)ノ*:・゚✧