Today's deal is Valkyria Chronicles 4!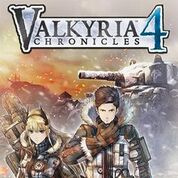 Steam: https://store.steampowered.com/app/790820/Valkyria_Chronicles_4/
Description:
A VISIT FROM ST. CHRONICHOLAS
'Twas the night before the night before Christmas, when all through the house
Not a creature was stirring, not even a mouse;
The stockings were hung by the polka dot chaise,
In hopes that St. Nicholas would be there in two days;
The children were nestled all snug in their beds;
While visions of video games danced in their heads;
And mamma in her 'kerchief, and I full of stress,
Had just settled our brains for waking up tomorrow and dealing with a bunch of Christmas BS,
When a loud sound rang out from down in the street,
I sprang from my bed to see if I should call the police.
Away to the window I flew like The Flash from the recent film Justice League,
Tore open the shutters and threw up the sash.
The moon on the breast of the new-fallen snow,
Gave a lustre of midday to object below,
When what to my wondering eyes did appear,
But a smallish computer that led me straight here,
To a small game deals website so lively and quick,
Like an everyday purple and yellow version of St. Nick.
Much cheaper than retail, the deal when it came,
And it whistled, and shouted, and announced today's game:
"A magical version of the second world war!
It's twenty-five bucks for Valkyria Chronicles 4!
To the top of the porch! to the top of the wall!
Now dash away! dash away! dash away all!"
The official trailer for Valkyria Chronicles 4:

Our favorite Steam reviews:
As always, use this thread to discuss the deal, talk about the game, and find people to play with.