Today's deal is Tyranny - Standard Edition!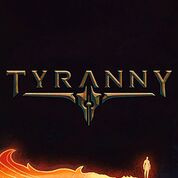 Steam: https://store.steampowered.com/app/362960/Tyranny/
Description:
NOSELESS AND HANDLESS

We here at Chrono definitely agree that in general, tyranny is a bad thing. Like, we're not stupid, you know? We know the word tyrant means "bad like a t-rex" if we're getting our Latin right, but before you go and pull down that statue, finding yourself in a flimsy war-won dictatorship CAN be an opportunity if you're already in the right political situation. Enter the game Tyranny, which you should already want because it's made by New Vegas dev Obsidian, but we're also selling for like 60% off.

You play as a high ranking enforcer of the law in a state where the despot has already won, and in this RPG, it's up to you to choose whether or not you keep your head down and rule alongside your homie with an iron fist, or try and make things better by dismantling the government, as a well-meaning dude on the inside. You folks are all probably super-familiar with this idea already because of all the bad kings (and queens) in Game of Thrones, but it's a pretty neat premise for a game, too.

Like, usually in RPG's you always play as like, the mute child of a humble carpenter who has thick spiky hair and a basic tunic and a destiny, but this game doesn't give a FYUCK. It just drops you right into some serious shit like hey, we already caught these people, should we kill them or not, and that's your job when the game freakin' STARTS. It's like an entire game of trying to decide whether to become the Kingslayer or not, without all the baggage of having sex with your sister, and if that's not the perfect tagline, I'm not a good copywriter.
The official trailer for Tyranny - Standard Edition:

Our favorite Steam reviews:
As always, use this thread to discuss the deal, talk about the game, and find people to play with.