Today's deal is Trine 4: The Nightmare Prince!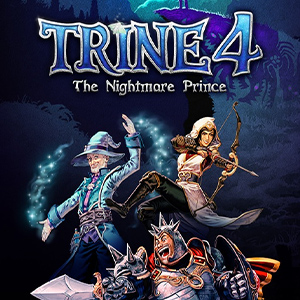 Steam: https://store.steampowered.com/app/690640/Trine_4_The_Nightmare_Prince/
RESTLESS NIGHT

You're in an endless and comfortable black. Your mind is clear, your body is loose, you are warm and safe and good. You open your eyes and you're STUNNED to see that in reality you just closed your eyes a little too long at a work meeting, and while you were sleeping, your boss asked you a question. Everything is still hazy and blue, but your chest tightens as you realize the whole room is staring at you in silence.

Wait…what meeting is this?

Something isn't adding up. You can hear yourself speaking your thoughts.

Is…is this real?

NO IT IS NOT. AND YET YOU ARE HERE.

Am I dreaming…?

NO. THIS IS A NIGHTMARE.

Fangs explode into everyone's mouths and your cubicle-mate hisses like a king cobra. But then…a voice.

"…and then you jump up there, and then I pull the lever…and….HA!"

The shutters fly open, and the vampire office shrieks in unison as arrows and fireballs fly in through the windows and turn them to ash!

"Hi! We're the characters from Trine 4! The joke of this ad copy is that we're saving you from one of your own weird ass nightmares just like how we save Prince Sellus in our game, which again, is called Trine 4, and is available today on Chrono.gg for just $16.99!"

It was a pretty weird dream, to be honest. Must've had some weird cheese.
The official trailer for Trine 4: The Nightmare Prince -

Our favorite Steam reviews:
Sale price info:
This is matches the lowest Trine 4: The Nightmare Prince has ever been individually discounted according to ITAD, previous low was $16.99 on GamesPlanet.
As always, use this thread to discuss the deal, talk about the game, and find people to play with.