Today's deal is Transport Fever!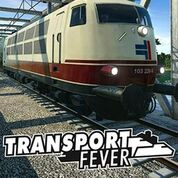 Steam: https://store.steampowered.com/app/446800/Transport_Fever/
Description:
CHOO CHOO BLOOD RUNS DEEP

Back in the day, my grandpa would always say to me: "America was built on trains", and I never quite knew what it meant until I grabbed a copy of Transport Fever today on Chrono.gg for 70% off, and now…I kinda think I get it. Anywhere in the country, if you dig down deep enough, you will find a kinect set of railroad tracks, bent and folded into all kinds of crazy shapes, literally holding up the ground. Skyscrapers all have train tracks for rib cages. George Washington signed the declaration independence from inside a giant dining car. Train oil runs in our veins.

Seriously, doctors can't explain it. There's a conspiracy of medical cover-ups preventing any of us from knowing we're half train. The bodies of famous conductor (like George Carlin and Ringo) are sealed forever in famous statues and sculptures like sarcophagi. I know you don't believe me, but let me ask you this: have you ever had a near death experience and seen a light at the end of the tunnel? I'm gonna blow your mind. That was totally a train.

And so what can we do with this information now? Does it really change the way we live our lives? No. It just woke me from the waking dream I was wandering around in, and really, it's the little things that make the most difference. Sometimes I say "all aboard" now instead of hello, and I'm playing through Red Dead Redemption 2 to get over my instinctive fear of train robberies. Sometimes it's a struggle knowing about my train-ness, but I'd never wanna go back, and you shouldn't either. Buy Transport Fever today, and live your truth.
The official trailer for Transport Fever:

Our favorite Steam reviews:
As always, use this thread to discuss this deal, talk about the game and find other people to play with!
(ノ◕ヮ◕)ノ*:・゚✧