Today's deal is Tower 57!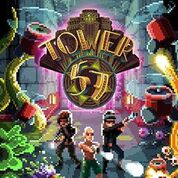 Steam: https://store.steampowered.com/app/530950/Tower_57/
Description:
WHICHPUNK?

Yo dude, did you grab that game Tower 57 from Chrono, yet? I've been playing the crap out of it all morning single player, but apparently the co-op is friggin' excellent, too.

Oh yeah, is that that cool-looking twin-stick steampunk game? Yeah, that looked pretty cool. Isn't only like 5 or 6 bucks?

Yeah, but if you call it steampunk one more time I'll scream.

What? You'll scream? Okay then, wise guy, what do you call that aesthetic, then?

Umm, first of all, it's not just me, it's everyone, but it's called dieselpunk.

Dieselpunk? Like steampunk but diesel power-based? Is it really different enough to matter?

Well, typically, "steampunk" is used to describe a fantastical world based off Victorian tech, while dieselpunk is more from the World War era, after war became super industrialized.

And this is real, you're not screwing with me?

Of course it's real! In fact, I wasn't totally sure whether I wanted to dieselpunk or decopunk, but I stick by my choice.

Decopunk? Decopunk? And what's that one, you wear goggles but you're from Miami?

Okay, don't be a jerk. (But yes kind of.)

Wow. Fine. So you want me to buy a copy so I'll play with you, huh?

Yes, but as a side thing, I would also love it if you learned the difference between your fantasy-based art movements.

Can't you just let that go?

No. I went to art school and now I'm gonna use it.

Lucky me then, I guess.

Yeah, I guess so…
The official trailer for Tower 57:

Our favorite Steam reviews:
As always, use this thread to discuss the deal, talk about the game, and find people to play with.