@Pylinaer, while it is impossible to tell just by looking at it whether it's Japanese or Chinese, I did a little searching and concluded that it is a Japanese sequence of words.
The reason why it's impossible to tell: each one of the characters depicted is being used both in Japanese as Kanji and Chinese regular language commonly.
The individual words, and @Fraggles was very close. And yeah, the way it's written out is funny, it's not written in complete top down order, this is the way it's broken up (Click image to see whole breakdown):
So the word sequence is:
白
山
神
社
交
通
安
全
御
守
白山 = White Mountain
(This was a little tricky at first, because there's a city called that in China, there is also a city called that in Japan.)
But putting those together with the next 2 words, and we get this:
白山神社 Literally meaning White Mountain Shrine.
Of course that was the biggest give away that this this is a Japanese stamp.
Next:
交通 = Traffic
安全 = Safety
御守 = Guard
This last set of 2 words was the next give away for it being Japanese than Chinese.
A little Google Translate gives a direct translation for this from Japanese: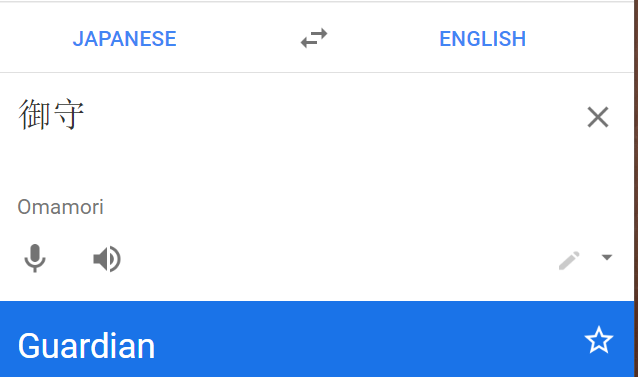 But if you try it in Chinese, you get nothing.
Why?
Because it looks like an abbreviation of four character combination from times of imperial China, and not used currently in regular speech, but okay, but nobody uses this abbreviation even when talking about it. (At least I don't think so.)
The full four word combination is as follows:
If you look carefully around the edges of this piece, you can see a faint seal as well:
It's kind of squarish on the outside and circular on the inside, I don't know in detail of what it is:
But I imagine that this is a personal identity/proof of ID for the shrine's guard, and that the seal was probably once a red stamp that has since faded. Kind of like you have a print, and that is the official authorization seal. The series of words on there is clearly a stamp, possibly and likely a woodblock print. The seal is to make if official.
Cheers!