Today's deal is The Red Strings Club!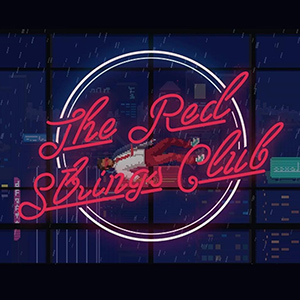 Steam: http://store.steampowered.com/app/589780/The_Red_Strings_Club/
Description:
NIGHT AND DAY

In the darkness, a flash of white and the dull orange glow of a smokable. It's barely enough light to see it, but your face lit from below like that makes it look ancient like an old temple relief, and instantly you're the god of humanness, reality, and truth standing in the phone booth on the corner of a quiet and grimy street where other people like you populate a seedy and futuristic underworld. Or at least it feels that way.

Feelings are like rules. You can spend your whole life being controlled by them without even really realizing it, but when all of a sudden they're stripped away, and the answers aren't just right in front of your face anymore, what's even left that makes you you? The man on the phone thinks he's talking to someone else. Following some rules can be less important than following others. Especially when the essence of humanity is at sta-

You look up from your PC monitor because you hear the trash truck outside. This game's pretty intense, huh? Looking at your little dude smoking on screen isn't enough to make you forget about your stained gym shorts and tee combo anymore, and you're pretty sure your mom is watching Undercover Boss in the next room. Nobody's ever really defined what the opposite of cyberpunk thriller is, but this might be it. Damn it, Chrono! Why do they always put out such dope games? Now you forgot to put out the garbage…

Oh well. Back to Red Strings Club. At least in the future there's a robot for that.
The official trailer for The Red Strings Club:

Our favorite Steam reviews:
Sale price info:
This is the lowest The Red Strings Club has ever been individually discounted according to ITAD, previous low was $5.09 on Steam
As always, use this thread to discuss this deal, talk about the game and find other people to play with!
(ノ◕ヮ◕)ノ*:・゚✧**