Today's deal is The Jackbox Party Pack 5!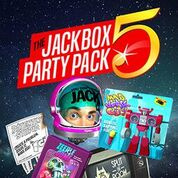 Steam: https://store.steampowered.com/app/774461/The_Jackbox_Party_Pack_5/
Description:
TURKEY DAY TIDINGS

So here we are, finally: the main event. You loved 3, 4 was awesome, and now, we've got The Jackbox Party Pack 5 on sale here at Chrono.gg for 27% off on Thanksgiving Day. And as you know, Thanksgiving is a time for family, so I thought that instead of just writing my regular cutting-yet-funny game description, I'd ask my girlfriend to help out with today's holiday message:

"Hey Kellie, did you know Chrono.gg has The Jackbox Party Pack 5 on sale for 27% off today?"

"Whoa."

"Did you know that game was out already?"

(shakes head)

"Was it already out?"

"Yeah, it's been out since last month, and it's got You Don't Know Jack on it for the first time in a while."

"Mmm…cool."

See folks? Did that just warm your hearts? I'm sorry if we made you cry on a day when you're supposed to be smiling, but remember, today's just about being grateful and eating good food and connecting with people…and also kind of getting ready to shop/shopping a little already, and there's no better mix of all those things than buying Jackbox 5 today, right here right now.

…Plus your auntie can play 'cause she only needs her phone. Happy Thanksgiving!
The official trailer for The Jackbox Party Pack 5:

Our favorite Steam reviews:
As always, use this thread to discuss the deal, talk about the game, and find people to play with.