Today's deal is The Jackbox Party Pack 4!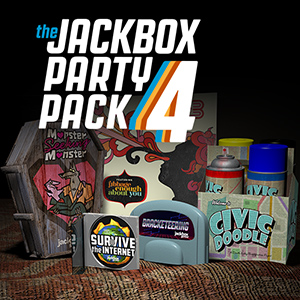 Steam: http://store.steampowered.com/app/610180/The_Jackbox_Party_Pack_4/
Description:
I'M SORRY UNCLE LARRY

Alright folks, we made it: it's day two of our Thanksgiving Jackbox sale (Five is coming tomorrow), and we're selling The Jackbox Party Pack 4 for half-off. And look, we know a lot of you have maybe played these games already, or your friend already has it at their house and you're over there all the time, but let us ask you this: how many other games do you know that are just as great as whether you love or hate your family? Here's what we mean.

Thanksgiving is tomorrow. There's nothing you can do about that. We all have to go home for the holidays, or we're already there, and once you are, you're probably either gonna want to spend some quality time with the relatives you love and don't get to see very often, or you'll desperately want something for everyone to do that'll stop them from killing each other. Most of the time you think "video games, perfect!" but then Mom doesn't wanna hold the controller, and it's too complicated for Grandad, but in the case of Jackbox 4, all you need is a cell phone or a tablet to join, and even old people are cool with those these days. How else would they get their fake news?

So please, pick up a copy of The Jackbox Party Pack 4 on sale today. Oh, and one last thing. If you're playing with family, be careful with Monster Seeking Monster. Don't get us wrong, it's a great game, but one time our copywriter Alex told his Uncle Larry to "sniff his zombie butthole" and now they're not speaking. You've been warned!
The official trailer for The Jackbox Party Pack 4:

Our favorite Steam reviews:
As always, use this thread to discuss the deal, talk about the game, and find people to play with.