Today's deal is a The Jackbox Party Pack 3!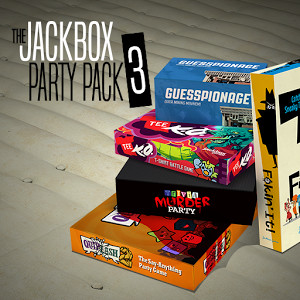 Steam: http://store.steampowered.com/app/434170/The_Jackbox_Party_Pack_3/
Description:
YES IT'S THE ONE WITH THE T-SHIRT GAME

Folks, it's the time of year again where our slate of games gets a little too good to ignore, and as this week of turkey, family, excess, and a long and somewhat knowing look into the ugly face of American capitalism begins, we wanted to start by offering some games that literally everyone loves, if for no other reason than it gives your parents and non-gamer friends something cool to do instead of talking about politics on Thursday: The Jackbox Party Pack 3.

And if that wasn't enough to get you excited ALREADY, we're gonna announce two more things: First, we're also selling 4 tomorrow and 5 on Thanksgiving, and second, yes, 3 is the one with the t-shirt game. And before you ask us "Hey Chrono, what t-shirt game are you talking about, exactly?" we invite you to simply take a second and look around.

Remember when everyone alive had LootCrate and you could tell a fellow "nerd" by the evil Spock clone shirt they had? Or the one that's a skull made of cats? Or the X-Files one? Well now, it's time to look for black, grey, maroon, or blue shirts with some very crappy (and sometimes completely hilarious) MS Paint-looking art, and a short caption written in a font called Chinese Rocks (look it up and you'll know). Some will make you laugh, some will confuse you, and some will make you very sad, but if you grab the Jackbox Party Pack 3 today for ten bucks and make one or two of your own, we swear to heaven above that you'll think it's the best thing in the goddamn world.
The official trailer for The Jackbox Party Pack 3:

Our favorite Steam reviews:
As always, use this thread to discuss the deal, talk about the game, and find people to play with.