Today's deal is The Escapists 2!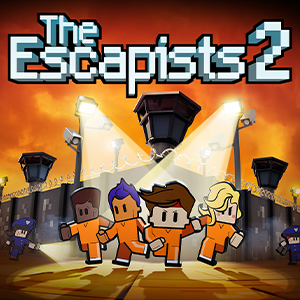 Steam: https://store.steampowered.com/app/641990/The_Escapists_2/
Description:
YOU'RE ALL MY THERAPIST

Hi folks, Alex the copywriter here. Now, I love prison break capers as much as the next guy, but in sitting down to write my copy for The Escapists 2, which, btw, we're selling today for less than six bucks, I let the concept filter through my memory, and I've hit upon something awful that's stayed with me for many years, but only in my nightmares. It's one of those things where you're a kid and you see something and it totally freaks you out, even though in reality, if you were grown, it wouldn't bother you at all.

It has to do with one of the greatest prison movies ever made, Escape from Alcatraz, in which Clint Eastwood and friends slowly but surely plan their exit from the notorious San Francisco prison, including some pretty famous things, like digging through the walls with spoons, and making rafts out of raincoats. Incredibly, this movie is based on something that allegedly actually occurred, and sometimes you gotta wonder who came first, the chicken or the egg when it comes to movie jailbreak ideas versus actual jailbreak ideas. But, even MORE incredibly, the one that really got me good was probably the most cartoonish one of all.

At one point the guards check to see if the prisoners, who by this time are long gone, are still sleeping, and sure enough, when he goes to check on their sleeping forms, he sees bodies in the beds, which at first fills him with relief. Now lil' baby me, watching this movie as a boy (it came out in 1979), I was very much of the same mind as the guard, but since I knew I just saw them all leave, I was a little confused how they could still be in bed…until of course, the guard turned him over, revealing the most grotesque, upsetting, hastily made papier-mâché head you've ever seen. Not only was the guard mindblown, but so was I, and it made me so sick to my stomach, I yakked. Today, those same feelings are so exciting that I might just barf out of happiness, so please, if you want to help me move past this childhood trauma, buy your copy of The Escapists 2 today!
The official trailer for The Escapists 2:

Our favorite Steam reviews:
As always, use this thread to discuss this deal, talk about the game and find other people to play with!
(ノ◕ヮ◕)ノ*:・゚✧