Today's deal is TEKKEN 7!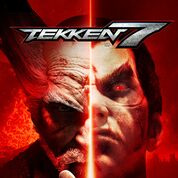 Steam: https://store.steampowered.com/app/389730/TEKKEN_7/
Description:
DEEP TEKKEN LORE

Somewhere quiet, in the remote hills of rural and forested Japan, there is a cliff with a sheer rock face where a family of small white birds live in among the crags and the long bright grass blows in the wind. Nature is beautiful and still, and it is only the will of men that give it purpose; change it, form it, shape it into a place that will be remembered forever. Nature is a means to any end.

Suddenly, foot falls in the dry cold dirt, the shuffle of layers of hard fabric and animal skin, a small metal jingle like shaking keys up and down on a string. These are steps taken with intention. These are steps taken with confidence. These are steps taken with remorse. These are steps taken by a man walking towards the devil, and also away from it. He is slowed by the bundle in his arms and what he knows he must do with it.

"You see this, kid?" He says with a distanced smile. "This is the kind of thing that just tickles my balls." He continues through the trees, ruminating like he was written by Shakespeare. "And yet, it kinda leaves me feelin' a little icky, you know? See, normally I don't really enjoy killing women…" At that moment the bundle stirred. It was Prince Noctis Lucis Caelum.

"But I'm not a woman, I'm a man!"

"A man, eh? That's even better! I can kill dudes all the livelong day, baby!" Just at that moment, he arrived at the cliff, and with great synchronicity, Negan tossed Noctis right the hell off.
The official trailer for Tales of TEKKEN 7:

Our favorite Steam reviews:
As always, use this thread to discuss the deal, talk about the game, and find people to play with.