Today's deal is Supraland!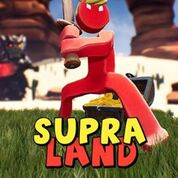 Steam: https://store.steampowered.com/app/813630/Supraland/
Description:
VIDEO GAME BUFFET

Kid 1: Daaaaad! Come on, dad! Won't you tell us where we're goin'? I just want to play video games!

Dad: Yeah, that's where we're going.

Kid 1: Ooh! Really? Cause I really want something like Mario to play, that'd be really fun…

Dad: Yup, that's where we're going.

Kid 2: What? Mario? Mario's lame! More like Sorry-O! Gimme something like Portal! Now THAT'S a video game!

Dad: Uh-huh, that's where we're going!

Kid 3: Aw, come on, Dad! That's not fair! Portal is for nerds who are afraid of adventure! Gimme some Zelda to play! That'll do it!

Dad: Yes, son! Don't worry! That's EXACTLY where we're going!

Kid 1: Wait, okay, Dad. What's the deal, here? We keep asking for totally different types of games, and it just seems like to be non-confrontational you keep agreeing with whatever the last thing anyone said! Like, what if I changed my mind and said I want Metroid now? Then what?

Dad: Then I would take a second to think and then agree that yeah, that's literally where we're headed, son!

Kid 2: So where the hell are we going then? And stop treating me like a toddler, I'm 20 years old!

Dad: Ugh, fine! It was SUPPOSED to be a surprise, but we're headed to Supraland!

Kids: SUPRALAND? WHAT'S THAT?

Dad: Well, it's all those games you wanted mixed together, so all of you can have fun, all for the low low price of $5.50! How 'bout that?

Kid 3: Sounds awesome, even though it was weird you were keeping mum!

Dad: Yeah? You guys excited?

Kids: HELL YEAH!

Dad: Great!

Kid 1: Ooh! And maybe after, we can go get some Hometown Buffet for dinner?

Dad: Ew, hell no. That place is gross.
The official trailer for Supraland

Our favorite Steam reviews:
This is the lowest Supraland has ever been discounted according to ITAD, previous low was $5.99 on Steam.
As always, use this thread to discuss the deal, talk about the game, and find people to play with.