Today's deal is Super Man Or Monster!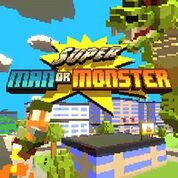 Steam: https://store.steampowered.com/app/393220/Super_Man_Or_Monster/
Description:
WHICH ONE ARE YOU?

In one corner, there is the man. The man is basic, normal-sized, chill. He keeps clean. His favorite subject in school was world history, and he loves to eat sandwiches. This man is all of us, and with a life so completely average and boring, he elegantly captures what it means to be part of the group. He could be anyone. He IS everyone. We the people of this fine city will follow him absolutely everywhere. He will take us home. He is man.

Meanwhile, in the other corner, is the monster. The monster doesn't care about YOU, he doesn't care about the city, he's too big to even notice! He doesn't chat, he doesn't have a job, he rarely sees anyone else that matters. All the monster cares about is the monster, and when you're a hulking beast who dwarfs the skyline, that can totally work for you…if you're cool with smushing everything we love into a jelly.

And yet, today's game, Super Man or Monster, gives us the choice. Who do you want to be? The unchallenged all-consuming invader whose victory seems all but assured, or the man who stands up for his brothers and sisters DESPITE the odds? Normally, money is no object and you might take your whole LIFE to choose. Today, it only costs $2.50 and you can be both for hours. And really, that's the secret to this whole thing. If you really think about it, we're ALL both. Just depends on when you catch us.
The official trailer for Super Man Or Monster:

Our favorite Steam reviews:
Sale price info:
This is the lowest Super Man Or Monster has ever been individually discounted according to ITAD, previous low was $6.49 on Steam.
As always, use this thread to discuss this deal, talk about the game and find other people to play with!
(ノ◕ヮ◕)ノ*:・゚✧