Today's deal is STRAFE: Millennium Edition!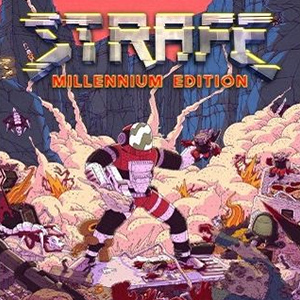 Steam: http://store.steampowered.com/app/442780/STRAFE_Millennium_Edition/
Description:
VIDEO GAME JANITOR

Hi there, I know it seems crazy, but most of what you know about technology and computers is wrong. Sorry, just is. In point of fact, the type of stuff you see in Tron and Wreck-It Ralph is much more accurate, and if you don't believe me, then hooey on you, cause my name is Slim, I'm a video game janitor, and until today, I thought it was a pretty easy job, you know? You go out, you go into the levels that are already beaten, and you clean them out so the next player can play. Sometimes you'll miss a spot or something, sure, but eventually you memorize it, and bing bang boom, Tron's your uncle. (Tron is not my actual uncle.)

But then I got assigned to Strafe, and now I want to die. It's wild, y'all. People blowing up all kinds of weird-lookin' low-poly 90's PC monsters out here that are absolutely FILLED with blood and guts, which is normally fine, but if you read the Steam page, you'll see that this game actually PRIDES itself on the gore not automatically fading away as you play. And if you look at the sheer number of messed up weapons you can use to mulch these bad boys up, I'll probably be cleaning up after this game for the rest of my life.

And you know what's even more screwed up? Do you know what a freaking roguelike is? Number one, it means that dying and starting from the beginning is baked into the game, which means I have to clean and reset the WHOLE GAME regularly for ALL PLAYERS, and number two, the rooms and objectives are completely randomized each time, so I'll never ever EVER get my bearings. What ever happened to Goldeneye 007, you know? Drag a few bodies, sponge a few walls, and you're done! Now I'm doing 10 times the work for less! I tell ya, man…Slim don't get no respect…
The official trailer for STRAFE: Millennium Edition:

Our favorite Steam reviews:
Sale price info:
This is the lowest STRAFE: Millennium Edition has ever been individually discounted according to ITAD, previous sale was $3.74 on Steam.
As always, use this thread to discuss this deal, talk about the game and find other people to play with!
(ノ◕ヮ◕)ノ*:・゚✧