Today's deal is Stellaris!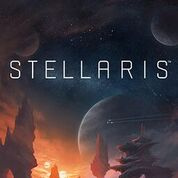 Steam: https://store.steampowered.com/app/281990/Stellaris/
Description:
SEMANTICS

Hello. Thank you for reading my letter. Now before I get to the meat and potatoes of why I'm writing in, let me give you a little background on myself…and actually, I'll also be honest: I have no idea what it means to be an expert on something anymore. But let me say this: I work at a grocery store most of the day, I spend most of my time talking to people I've never met online, I've played Stellaris for 100 hours, and to me, my opinion of something is more important than the facts. I'm literally the PERFECT quintessential person to be writing in about this.

Now let's get to it. I see that you have Stellaris for sale on your website today for $7.75. Congratulations, that's a great deal, and I love this game, so I'm glad more people will have a chance to buy it. However, in your usually-charming ad copy for the game, the clown you have writing them actually had the GALL to refer to the game as a "strategy game", whatever THAT is, when in reality, he should have called it what it is, a GRAND Strategy game.

Now granted, I'm not a big "strategy" fan, so I don't know exactly what they do in those games, probably just quaint baby stuff like fighting a 6-on-6 battle or storming a single PALACE (lol), but let me educate you for a minute: Stellaris should always be referred to as Grand Strategy because when you've the power of a literal god, with your little tendrils spread out across the galaxy, and the decisions you make affect MILLIONS if not BILLIONS of loyal subjects, to me, that is the very grandest thing I can imagine. Anyways, that's it, other than that I love all your stuff, but make a mistake like this again, and you won't even see the orbital bombardment coming before your precious "website headquarters" is a smoking crater that also glows because laser bolts are probably radioactive.
The official trailer for Stellaris:

Our favorite Steam reviews:
As always, use this thread to discuss the deal, talk about the game, and find people to play with.