Today's deal is Stardust Galaxy Warriors Stellar Climax!
NOTE: OST included with purchase!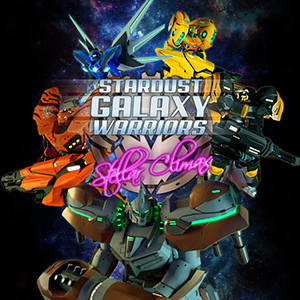 Steam: https://store.steampowered.com/app/389650/Stardust_Galaxy_Warriors_Stellar_Climax/
Description:
KETCHUP

MIA
Marsellus said you just got back from EVO.

VINCENT
Sure did. I heard you were a Mech pilot.

MIA
That was my fifteen minutes.

VINCENT
What was it?

MIA
It was a team of peace and order enforcers called "Galactic Police Force."

VINCENT
What?

MIA
"Galactic Police Force." Galactic, as in we're from all around the galaxy. Police, as in we're a literally the police. Force, as in we're a force to be reckoned with. There was a blue one, the Sniper, she was the leader. A Red Tiger, a Silver Wolf, a Black Bear, and an Amber Fox, me. We all had special skills. Blue Falcon used spears and missiles, the Red Tiger had claws and slowed down time, Silver Wolf was a demolition expert, the Black Bear's specialty was shields…

VINCENT
What was your specialty?

MIA
Nullification. The character I played, Amber Fox, her background was she was raised by surgeons. So she grew up doing blood transfusions. According to the records, she was the fastest woman in the world with a cross-match. But because she grew up in a hospital, she was also something of a scientist. She could build inventions, she started doing blood transfusions with ammo – when you're keeping the world safe from evil, you never know when being an expert at blood transfusions slash inventor's gonna come in handy. And she owned a zillion old gunss her grandfather, an old on-foot policeman, left her when he died. If we woulda got picked up, they woulda worked in a gimmick where every episode I woulda used a new gun.

VINCENT
Do you remember any of the guns?

MIA
Well I only got the chance to use one, 'cause I've only played one round so far.

VINCENT
Tell me what it was.

MIA
No. It's really embarassing.

VINCENT
C'mon, don't be that way.

MIA
No. You won't like it and I'll be embarrassed.

VINCENT
You streamed it in front of fifty million people and you can't tell it to me? I promise I won't tweet about you.

MIA
(laughing)
That's what I'm afraid of.

VINCENT
That's not what I meant and you know it.

MIA
You're quite the silver tongue devil, aren't you?

VINCENT
I meant I wouldn't AT tweet you…

MIA
That's not what you said Vince. Well now I'm definitely not gonna tell ya, 'cause it's been built
up too much.

VINCENT
What a gyp.
The official trailer for Stardust Galaxy Warriors Stellar Climax:

Our favorite Steam reviews:
As always, use this thread to discuss this deal, talk about the game and find other people to play with!
(ノ◕ヮ◕)ノ*:・゚✧