Today's deal is STAR WARS™ Knights of the Old Republic™ II: The Sith Lords™!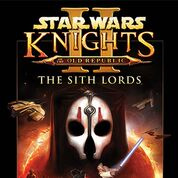 Steam: https://store.steampowered.com/app/208580/STAR_WARS_Knights_of_the_Old_Republic_II__The_Sith_Lords/
Description:
KNIGHTS OF THE DEMOCRATIC PEOPLE'S REPUBLIC

Not to sound like a total cliche, but a lot can happen in five years, you know? Like, remember when Sony got hacked for pretending to send Seth Rogen and James Franco to North Korea for that movie The Interview? That was a HALF A DECADE AGO, isn't that crazy? It feels like it was yesterday. But what's even weirder is when you think of all the unexpected ways something like that rippled outward to affect us. At least one dude got fired because he was so racist towards Obama (remember that guy?), and even more insane, leaked emails about Spider-Man directly resulted in the shared arrangement he now has that allows him to be in the MCU! (It's true, look it up!)

The point is, time moves fast, and even when you do something as crazy as defeat a Sith Lord and his giant space army factory, you can never really predict how the rest of history is going to play out. Will the Jedi triumph and good return to power in the galaxy? Will the Sith come back into power and start the whole process over again? Will SpaceSony and SpaceDisney share the rights to T3-M4 so that he can be a part of the Calrissian Pictures Cinematic Droidiverse?

Unfortunately, we're not gonna spoil it for you here, that wouldn't be super chill to do, but we will say that Knights of the Old Republic II: The Sith Lords is on sale today for just two measly Earth dollars, so you can find out for yourself! Just don't email anyone about it, especially if you're a studio executive and you think Brianna's acting like "a minimally talented spoiled brat". Google this joke, it's really good, we swear.
The official trailer for STAR WARS™ Knights of the Old Republic™ II - The Sith Lords™:

Our favorite Steam reviews:
As always, use this thread to discuss the deal, talk about the game, and find people to play with!