Today's deal is Squad + OST!
The deal options are: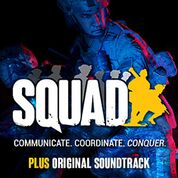 Description:
THINGS THAT AREN'T GONNA BE IN SQUAD

Sup, gang? Tight. So, today's game Squad is a 50v50 high-fidelity combat game so realistic that if your old blurry-eyed grandma walked in, she'd think you were watching GoPro footage. However, we here at Chrono know what it's like to overblow our own expectations for what a game is based on a features list, so even though it's super accurate-to-reality for a game, here's some features that for sure WON'T be in there:

In order to look prettier, sunsets in-game always look one hundred percent amazing and photographable, even though sometimes in real life sunsets look a little crappier.

Obviously, the developers of this game can't license every song in existence, so while in a real battle you could listen to any song on a Zune or iPod, in Squad you'll have to make do with the OST (which you also get for free today, by the way).

Armored transports are much less stressful to drive in Squad than in real life. That's probably because you won't actually die.

You will never be forced to use the bathroom in-game, there are no working bathrooms on the battlefield, and none of the 100 avatars in the match will say anything CLOSE to "Help! Where should I poop or pee?"

None of the soldiers will discuss how they're still disappointed with Nintendo Labo.

In the reality of the game world, the Westworld Season 2 trailer has dropped yet, and like, spoiling it still isn't that cool but if you did it wouldn't make you a terrible person.

At no point in the game will one soldier turn to another and whisper "frickin' hell, I'm going bald".

But, other than these few minor things, this truly is one of the best-looking and most realistic large-scale military sims out there, so even if you think Labo was always made for kids and that cynical grown-ups just don't understand something made purely for creative fun, give this game a shot. You'll probably have fun!
The official trailer for Squad:

Our favorite Steam reviews:
As always, use this thread to discuss this deal, talk about the game and find other people to play with!
(ノ◕ヮ◕)ノ*:・゚✧