Today's deal is Squad + OST!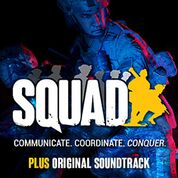 Steam: http://store.steampowered.com/app/393380/Squad/
Description:
HAPPY MOTHER'S DAY

Well, fellow gamers, it just so happens that this fine Sunday, it's once again time to honor that special person who undoubtedly brought you into this world, and who you almost certainly have an incredibly complex relationship with, your mother. And you know, a lot of ideas ran through our heads about what we could do for you today to make this holiday extra-special, but we figured our best move would probably be the safest: to put a game on sale for an extremely low price. And so, this Mother's Day, buy your mom a copy of Squad, the large-scale team-based tactical FPS.

And you know at first you might ask yourself "Why this game? Did they forget it was Mother's Day until an hour ago and try to cover up their mistake?" The answer is hell no, this is the exact game we meant to sell on Mother's Day, and here's why: first, numbers. A full game of Squad has 80 players in a 40 vs 40 scenario. This is perfect for your mom, because when you're surrounded by people who want you dead, who better to turn and see by your side than your own mother?

And that's only the beginning. Squad also has a base-building system to help you build up your defenses and better survive attacks. Isn't that perfect symbolism for mom putting a roof over your head? Right? And Squad also has "a world-class in-game VoIP system that allows you to talk to other soldiers locally, internally in your squad, between squad leaders, or squad leaders to the Commander," and who's the best person to communicate with when it feels like the whole world's coming down around you? That's right, mom. So buy Squad for you and mother today, we planned this for sure, and Happy Mother's Day from Chrono.gg!
The official trailer for Squad:

Our favorite Steam reviews:
As always, use this thread to discuss this deal, talk about the game and find other people to play with!
(ノ◕ヮ◕)ノ*:・゚✧