Today's deal is Squad + OST!
A portion of proceeds for today's sale go to Stack-Up.org! Stack Up helps US, Canadian, UK, Australian, New Zealand and NATO allied military service members get through deployments to combat zones and recover from traumatic physical and emotional injuries with the power of video gaming.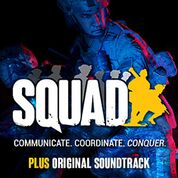 Steam: http://store.steampowered.com/app/393380/Squad/
Description:
SYN-CHRONO-ICITY

You probably don't even remember the movie from eight years ago that well, and honestly, we don't blame you for it, but in the tv show The A-Team, there's a character named Hannibal who makes all the plans, and you'll never believe this, but his catchphrase is actually "I love it when a plan comes together." The reason I'm mentioning a 25-year-old show in a paragraph about new games is multi-layered, like an onion, or an ogre.

Firstly, the A-Team is an Army Special Forces unit. In the game Squad, which we're selling today for half price, you also play as a tight knit group of military fighters who work together. In the case of both the A-Team and Squad, once those characters finished their military service they, like anyone who's served in the armed forces, would become veterans. That's layer one. Layer two is that Stack Up is a charity that helps out veterans with the power of video games, and a portion of what you pay for Squad today goes right to them to pay for things like helping veterans cope with PTSD, deploying care packages, and sending veterans to life changing events like E3 and PAX.

But the best layer of all is the third, because a Stack is what you call it when everyone in your squad forms up in a single file defensive line along the entrance to a room just before you might breach with a flashbang grenade like the one in their logo, which is a lot like what you do in the game Squad, which again, we're selling today to support this charity, and with this much thematic harmony perfectly floating around, we can kinda see where Hannibal's head is at. We love it when a plan comes together, too!
The Alpha 12 release trailer for Squad:

Our favorite Steam reviews:
As always, use this thread to discuss the deal, talk about the game, and find people to play with.