Today's deal is Space Beast Terror Fright!
The deal options are: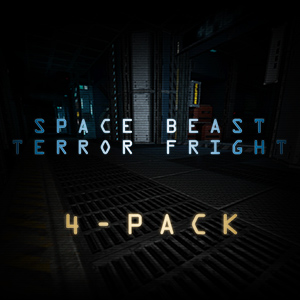 Description:
WORD BY WORD

Alright, so today's game is certainly a mouthful, so let's just take it one word at a time and see how we feel about it, okay? Cool.

Right, so first up, it's "space". On its own, honestly, it's a great word. It's full of possibilities, new frontiers, and potential for discovery. When you get the low horns and the star b-roll and Captain Picard says "Space" at the beginning of Next Generation, all it does is get us hype, and remind us of why we wanted to be astronauts in elementary school. So far, so good.

Next up, "beast". A little bit more worrisome than "space" at first glance, for sure, but if we're being real, as long as that space beast is behind some kind of barrier or cage door, it could mean anything. Maybe it's a scientific endeavor. Animals are wonderful, and an alien one could be mind-blowing. Definitely getting SLIGHTLY more sinister, but I'd say we're still in a pretty good zone.

Third is "terror". Admittedly, on its own, we're not too worried: horror movies are some of our favorites, but when you look at "Space Beast Terror" all together you start to get the picture, and suddenly more words begin to pop up, like "claustrophobia", and "mauling", and "danger", but who knows? Until we know for sure what that last word is, for all we know, it could be something dumb like "racing" or "theater" or "therapy", so we're not gonna call it early.

But unfortunately, in reality, the last word is "fright", which while at first glance it doesn't seem to add much beyond what "terror" already brought to the table, in another sense, this is the game saying "No, you idiot. This is a scary game set in space. Better get your gun." We're not sure if you're into it, but we are, and just in case you love screaming into a headset and letting loose with a machine gun as you get overrun by the gnashing teeth and claws of some wild-looking xenomorph, we're definitely selling 2 packs and 4 packs, and at most you're dropping ten bucks, so get ready, gamers.
The official trailer for Space Beast Terror Fright:

Our favorite Steam reviews:
Sale price info:
This is the lowest Space Beast Terror Fright has ever been individually discounted according to ITAD, previous sale was $8.84 on Steam.
As always, use this thread to discuss this deal, talk about the game and find other people to play with!
(ノ◕ヮ◕)ノ*:・゚✧