Today's deal is Space Beast Terror Fright!
It's buy one, get one free! Get one for yourself and get a key for a bud too!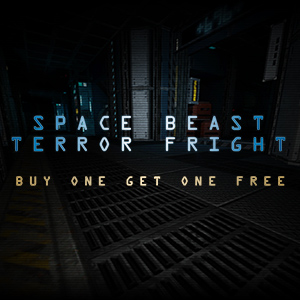 Description:
GUESS SHE DIDN'T LIKE THE CORNBREAD EITHET

Hey there, humans. My name is KLLLLLRRRRR and though you may not know me, I'm sure you know OF me, or at least, my kind. I'm one of those "scary" aliens that are currently hiding in the spaceship you're about to hop into guns blazing to wipe out. Now listen, that's fine with me, life is unfair, but at the very least, I hope I can give you some insight into where we're coming from so that next time, you might think twice before you blow out heads off.

First off, elephant in the room, yes, we do love eating humans, and honestly, you can't really blame us for that because you guys are effing delicious. But look at it from our point of view! This ship is weird! Someone said something about "roguelikes" or whatever the heck that means, but for us, it's like being stuck in a maze where the walls are always changing! We're starving in here! You're telling us that if you were stuck on a deserted island with an infinite supply of chickens you wouldn't cook one up every one in a while, have a little roast up? Of course you would.

And now imagine that those chickens have extremely powerful ballistic weapons your culture doesn't even understand and that basically turn you into hamburger meat. Would you think twice about sneaking up on a chicken then? Would you ever say it was shameful to stalk one from the shadows before ripping off its head? Because that's what it's like for all of us up here. We're trapped, we're hungry, we're scary, and we're going to kill you. I know it's easier to just kill us, but maybe next time, just bring us some double doubles? We'll try not to eat the UberEats driver, we promise.
The official trailer for Space Beast Terror Fright:

Our favorite Steam reviews:
Sale price info:
This is the lowest Space Beast Terror Fright has ever been individually discounted according to ITAD, previous sale was $8.84 on Steam.
As always, use this thread to discuss this deal, talk about the game and find other people to play with!
(ノ◕ヮ◕)ノ*:・゚✧