Today's deal is SOULCALIBUR VI!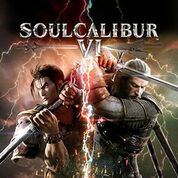 Steam: https://store.steampowered.com/app/544750/SOULCALIBUR_VI/
Description:
THAT ANNOUNCER

Transcending history and the world, a tale of games and deals, eternally retold. Now, one game is fiercely on sale. A gamer desires a game, and a shopper desires a deal. The gamers face a gruesome quest to search for the ultimate deal. The almighty Chrono has granted you one such deal to cut your own path. Watched over by the almighty staff who runs this website, you will all unleash your fury.

Fate conspired to arrange this game deal. Soul Calibur VI without a discount isn't justice. The game's flame will devour all desire. Slashing through the shadows we defeat the evil that lurks behind full retail pricing. If love for a great value is power, than no one is stronger. Victory belongs to the last one standing. Once the sale has finished, only those who bought it will have saved the money.

Only one fate awaits those who slept on it. The legend will never die. The gruelling battle ended with the victory of all of us. Chrono stood again against an impossible enemy. This victory strengthened the soul of the copywriter, who was self conscious about this bit getting old. He was seriously wounded in writing this, but the soul still burns. Buy Soul Calibur VI today. Also you can KIND OF dress like Waluigi if you really apply yourself.
The official trailer for SOULCALIBUR VI:

Our favorite Steam reviews:
As always, use this thread to discuss the deal, talk about the game, and find people to play with.