Today's deal is Slain Back from Hell Bundle!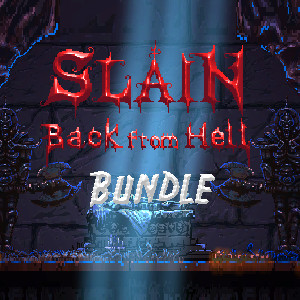 Steam: https://store.steampowered.com/app/369070/Slain_Back_from_Hell/
Description:
WELCOME FOOLISH MORTALS

KRAKOOOO! (that's lightning, by the way) No mortal, that's not a ghost you hear, just a creaking door opening that will lead you down a pathway of pure horror and misery… and no, that's not a choir of demonic voices you hear, running through their exercises, it's just a sick metal band setting up to play the soundtrack, so grab your black cat, your vampire bat, and five bucks, because Slain is back from hell, and it's a super hard super ill platformer that you can really sink your fangs into.

Make sure you have your fridges stocked with plenty of your favorite witches brew, and bring tons of werewolf jerky along, because this game is so mind-warpingly challenging, it's spooky! KRAKOOOO! You won't be able to eat or drink anything else for at LEAST five or six hours, and if you like finding dead bodies buried in your basement, imagine how fun it is to find all of Slain's cleverly hidden secrets!

So buy this game, drink some blood, stand near a skeleton, call up the blob, set up spikes in the entryway, purchase some mall swords, listen for zombies, cast protection spells against mind beasts, put on some studded leather, grab a Gibson flying V, drain the black lagoon, and clean the flesh beetles from your musty alcoves. (Sorry, I ran out of horror tropes.) (You get it.) It's time to rock. It's time for Slain: Back From Hell. KRAKOOOO!
The official trailer for Slain Back from Hell Bundle:

Our favorite Steam reviews:
Sale price info:
This is the lowest the Slain Back from Hell Bundle has ever been individually discounted according to ITAD, previous low was $3.89 on Steam.
As always, use this thread to discuss this deal, talk about the game and find other people to play with!
(ノ◕ヮ◕)ノ*:・゚✧