Today's deal is Skater XL!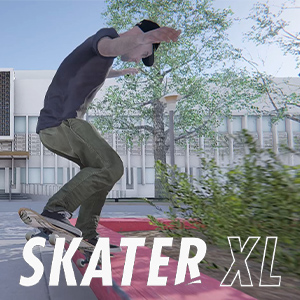 Steam: https://store.steampowered.com/app/962730/Skater_XL__The_Ultimate_Skateboarding_Game/
Description:
TONY HAWK'S BIG SKATER

Hey kids! Get ready to game as BIG as you want with Skater XL! Oh? What's that? You've never heard of it? Well let us tell you something: Skater XL is what they were talking about when they invented the phrase "something big" is coming! Don't just shred on a half pipe, crush it into dust with a skate shoe the size of a Yaris! And that's not because you're actually huge in the game, by the way, it's because Skater XL is so good, you'll FEEL huge after you play it!

Have you ever done a nosegrind? Well, think again, because when a Skater XL nosegrinds, you can nosegrind things into dust: pets, people, small buildings, no one is off limits when you feel like you're 80ft tall! Some people never recover from the damage they unleash. Which again, is not literally true of the game, but merely how one feels after playing it. That's what we mean when we're talking about being a Skater XL.

And can you imagine what it must be like being a Skater L? Rolling around on your 20ft board like you own the place when right behind you comes that righteous 35ft long Skater XL board to nosegrind into a Kool-Aid packet! Can you imagine? So just remember, people, when size doesn't actually matter, SIZE MATTERS. Try Skater XL today. It's gonna be HUGE.
The official trailer for Skater XL

Our favorite Steam reviews:
As always, use this thread to discuss the deal, talk about the game, and find people to play with.