Today's deal is SimCity™ 4 Deluxe Edition!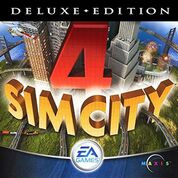 Steam: https://store.steampowered.com/app/24780/SimCity_4_Deluxe_Edition/
Description:
THE BEST SIM CITY

Alright folks, let's be real, Sim City's a pretty cut and dry situation. Either your brain enjoys and accepts this type of super in-depth city management game, or it doesn't, but you'll never know for sure until you try, and people have spent four bucks on much much less, (Me, a Cheesy Bacon Crispy Chicken sandwich from Burger King) so why not give it a shot? However, we realize that high fidelity simulations can get a little Black Mirror-y and existentially upsetting sometimes, especially if you're not familiar, so here's a list of things that shouldn't ever happen in Sim City. If you see any of this go down, you may need to see a professional.

-SimCity's famous for its disasters, and yes, UFO's are a possible outcome, but if your elected officials stop acting like themselves and you swear you've seen them scratching their necklines like their face skin is a removable mask, that's the drugs, not the game.

-It is normal to want to construct the most perfect and efficient city possible. However, if the plans begin coming to you in your dreams, your friends are abandoning you, and you can't keep the name Nyarlathotep off your lips, it might be time to stop seeing that weird priest you've been grabbing coffee with lately.

-In Sim City 4, you create regions which you can then build several connected cities in, but if one of the cities militarizes and begins systematically blockading and subjugating its neighbors, don't worry, you're not playing Sim City 4, you're playing Civ 6.
The official trailer for SimCity™ 4 Deluxe Edition

Our favorite Steam reviews:
As always, use this thread to discuss the deal, talk about the game, and find people to play with.