Today's deal is Sid Meier's Civilization® VI: Platinum Edition!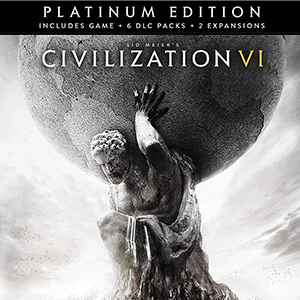 Steam: https://store.steampowered.com/app/289070/Sid_Meiers_Civilization_VI/
Description:
THE VOICE

Caesar looks out from his vine covered balcony out onto his empire. The dream of many before has come to this moment, to him, to a time when man finally reached up and conquered the world as he knew it. The glory and wonders of mighty Rome lay there before him and he smiled with the fire in his eyes of all the Caesars, of all the geniuses, cultural leaders, and brave soldiers who fought to carve out this eternal paradise on Earth which stretched out beyond the horizon. But then, a light from above parts the clouds and a voice beyond all who have ever spoken addresses him.

"CAESAR, RULER OF THE ROMAN EMPIRE, CHILD, YOU HAVE DONE WELL. YOU MAY NOT KNOW ME, BUT I AM A DEITY FROM ANOTHER REALM CALLED "MODERN-DAY MARYLAND". THOSE IN MY FLOCK KNOW ME AS SID MEIER, BUT TO YOU, I AM THE CREATOR OF WORLDS, AND I HAVE COME TO YOU WITH A MOST IMPORTANT MESSAGE."

"What is it, almighty God of the heavens? What news do you have for the great Caesar? Must I truly rise higher for thee after coming so far?"

"NONSENSE, YOUNG CAESAR. I AM HERE TO TELL YOU YOU'VE WON. THE WORLD IS YOURS. THERE IS NO CAPITAL KNOWN YOU HAVE NOT CONQUERED. YOU HAVE ALL THE DLC, ALL THE EXPANSIONS, AND NOW YOU ARE THIS WORLD'S SOLE RULER."

"And what of it, God? Will you strike me down and send my soul to the underworld?"

"NO, CAESAR. IT'S TIME FOR YOU TO GO PLATINUM."

And the sun burst, and a wave of silver light shined down across the land, and everything, from the smallest apple to the biggest temple was now shining platinum metal, and so was the sea and so was the sky and so was Caesar, and in an instant the entire Roman empire collapsed back into numbers and letter and code and backflipped out across the internet to Chrono.gg, where you bought Sid Meier's Civilization VI: Platinum Edition for less than thirty bucks.
The official trailer for Sid Meier's Civilization® VI:

Our favorite Steam reviews:
Sale price info:
This is the lowest Sid Meier's Civilization VI : Platinum Edition has ever been individually discounted according to ITAD, previous low was $30.40 on Green Man Gaming.
As always, use this thread to discuss this deal, talk about the game and find other people to play with!
(ノ◕ヮ◕)ノ*:・゚✧