Today's deal is Sid Meier's Civilization® VI Gold!
Welcome to the final day of the Best of Chrono!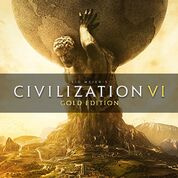 Steam: https://store.steampowered.com/app/289070/Sid_Meiers_Civilization_VI/
Description:
IT IS YOU WHO IS THE BEST

So this is it: Sid Meier's Civilization VI: Gold Edition is the last game in our epic best of 2018 game deals event. Crack the champagne, cue the confetti, and let's poke at Ghandi so long he invades us with his army. On the one hand we're sad it's done because we absolutely LIVE to bring you game deals we know you'll love, but we're also excited to show you that in these next few weeks, we've got a selection of games we've never sold before that's so good, you're gonna wish it was 2019 already just so some of them could be on next year's best of list.

But on a deeper and realer note, 2019 will be our third year of Chrono.gg, and as much as we love taking credit for our successes (especially me), it's really all of you we should be thanking for showing up everyday, reading these dumb descriptions, and creating the community around us that we always dreamed of having. You've shown us and the whole world that it's possible to be good and honest and cool about getting good deals on good games without ever having to mislead, go behind anyone's back, or steal. And so, in honor of cultural victories, our sale officially concludes today with the words of William Shakespeare, which we twisted and ruined into a lame parody about video games:

"Our game deals now are ended. These, our games,
As I foretold you, were all just software and
Are melted into steam, into our Steam
libraries:
And, like the heavy discounts of our best of sale,
The battered spaceships, the giant rats,
The chicken masks, the great gungeon itself,
Yea, all which it discounts, shall dissolve
And, like this insubstantial pageant faded,
Leave not a sale behind. We are such stuff
As dreams are made on, and our little life
Is rounded with a website."

<3
The official trailer for Sid Meier's Civilization® VI Gold:

Our favorite Steam reviews:
As always, use this thread to discuss the deal, talk about the game, and find people to play with.