Today's deal is Shenmue I & II!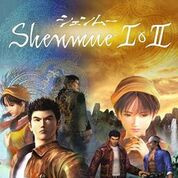 Steam: https://store.steampowered.com/app/758330/Shenmue_I__II/
Description:
SHEN GOLDMUE

How crazy is it that Shenmue I and II are out again and we've got it on sale? And that Shenmue III is coming? In fact, that's SO crazy, we made a list of other things that would be as crazy.

It's as crazy as your dog talking. Actually, you know what? That's not crazy enough. It's like if the dog was talking and it sounded like Jeff Goldblum. Actually, still no. It'd be like if it didn't just SOUND like Jeff Goldblum, but also claimed to BE Jeff Goldblum, and that he's always been a dog.

Actually, we're still not happy with that. It's more like if the dog said he was Jeff Goldblum and then you went back and looked at all his movies, even weird ones like Earth Girls Are Easy and Jurassic Park 2, and it was just an Irish Setter instead of Jeff Goldblum in every scene.

Look, forget about the list, it's Shenmue, it's great, you guys know what it is, it's a living legend just like Jeff Goldblum, and today they're both on sale for twenty-five bucks. Buy em, play 'em, forget about your real life, and get into this strange and bizarre world before the third one comes out. Enjoy!
The official trailer for Shenmue I & II:

Our favorite Steam reviews:
As always, use this thread to discuss the deal, talk about the game, and find people to play with.