Today's deal is the She Sees Red!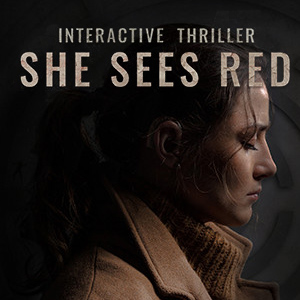 Steam: https://store.steampowered.com/app/1081510/She_Sees_Red/
Description:
GOLUBTSY NOIR

What do you think the single food is in Russia that everyone loves to eat on the cheap? Borscht? Maybe not because it's just a soup, but if Spaghetti Westerns are a style of American cowboy movie made in Italy, what do we call this awesome Film Noir detective story shot completely in Russian? Stroganoff Noir? Is that even actually Russian? According to Wikipedia it is. But what are we even talking about? A movie for sale on a game deals site? Not likely. But have you ever heard of an FMV game?

If not, let us enlighten you. Apparently these developers in Russia found this sweet director with a talent for directing tense scenes. In fact, some of his short films are on the steam page to watch if you want, but the point is, FMV games are stories with choices for you to make, but told through filmed scenes with real actors. If this doesn't sound cool to you, probably nothing does, but if you want at least a little hint of what this game is about, read on.

Anyway, this is one of those bottle type stories. In this case a bottle of vodka on account of it being in Russia. Someone's been offing people for real in a shady Russian nightclub, and you play the smug lady detective who's on the case, despite the constant threat of bullets and blades causing her serious bodily harm. It's quick and you can beat in a sitting, but with such a crazy plot and multiple endings, it's like a movie you have agency over that you can watch a bunch of times with totally different outcomes. So buy this Sweet and Sour Cabbage Noir if you want. If not, just go back to being a square. Red Square, that is…
The official trailer for the She Sees Red:

Our favorite Steam reviews:
Sale price info:
This is the lowest She Sees Red has ever been individually discounted according to ITAD, previous sale was $5.99 on the Humble Store.
As always, use this thread to discuss this deal, talk about the game and find other people to play with!
(ノ◕ヮ◕)ノ*:・゚✧