Today's deal is Rogue Legacy!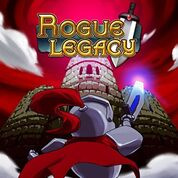 Steam: https://store.steampowered.com/app/241600/Rogue_Legacy/
Description:
DEATH STRANDING

After the Game Awards a few days ago, fans of Hideo Kojima's new Sony-funded follow-up to his three decades of work on Metal Gear Solid were disappointed to find that there would be no more info just yet on what exactly the game is about. Luckily, here at Chrono, we've been given unprecedented access to the trailers, interviews, and press releases Kojima has already put out, and after spending this whole month deep diving into babies, Guillermo Del Toro, dead sea life, and rain that makes you age, we think we've cracked the code: they want us to sell you Rogue Legacy for the insanely low price of two bucks.

Don't believe us? Well how about this: we know that in Death Stranding, people carry around babies wherever they go, and that even though a lot of times things seem pretty hopeless and dangerous, no one seems too bothered by the idea of their imminent death. Stranding. Nevermind. Point is, we think that in Death Stranding, when you die you respawn into the baby while retaining all your previous memories. This may seem like nothing at first, but whenever you die in Rogue Legacy, you get replaced by a slightly randomized heir, so don't tell us it's just some barely supportable coincidence!

And you know what else? Rogue Legacy has over eight classes to choose from. This just seems like a cool feature if you're not looking carefully, but you know what came out in the eighth month of 2014? That's right, P.T., the playable teaser for Kojima and Del Toro's last (cancelled) game at Konami, Silent Hills! What could it all mean? What can a daily deal site even DO with all this undeniable evidence? Could be nothing, sure, but maybe you should just buy the game and find out.
The official trailer for Rogue Legacy:

Our favorite Steam reviews:
As always, use this thread to discuss the deal, talk about the game, and find people to play with.