Today's deal is Road Redemption!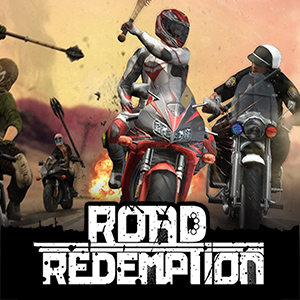 Steam: http://store.steampowered.com/app/300380/Road_Redemption/
Description:
THE BIG SLICE

The perfect time, the perfect place, the perfect combination of people and positions, but let's be honest: even though you've been waiting your whole life for a moment like this, it's still pretty jacked up. Oh well. Worth. The Japanese bike screams in between your legs. It's funny Americans always say their bikes are weaker, but this Stormtrooper-lookin S.O.B. is fast as hell, especially right now as you gain a little on the dude on the other bike, with his flashy, evil stunt show driver look.

Traditionally, Samurai wear their katana at the waist, but when you're in the coolest biker gang ever conceived, suddenly history and tradition don't matter so much, and it's slung across your back like the goddamn Witcher. How else would you be able to savor every second of sharp metal grinding on the inside of the scabbard, as you draw it like a member of some demonic motorized cavalry. It feels cool to be you. Isn't that a cool feeling?

Anyway, Stunt Show's practically within arm's reach now, but maybe he's seen the sun flashing off the cool squiggly lines on the ancient weapon you're holding menacingly over your head, because suddenly he seems real squirrelly on the road. It would be a big deal if you were on a Harley, but this little Mario Kart number just follows him right through every twist and turn like a homing missile. It's time. You swing through his neck like your aunt's ambrosia. Like we said earlier, the fountain of blood is disturbing, but on the bright side, you're a futuristic motorcycle ninja now, so really, was it all worth it? Effing of COURSE it was.
The official trailer for Road Redemption:

Our favorite Steam reviews:
As always, use this thread to discuss this deal, talk about the game and find other people to play with!
(ノ◕ヮ◕)ノ*:・゚✧